With around 100 million customers across the world, the US-based insurance company, founded in the mid-1800s, is one of the world's largest financial services companies, providing insurance, annuities, employee benefits and asset management to individual and institutional customers.
The company's strategy team was already sending weekly intelligence newsletters to the senior management with information about competitors and other industry updates. But the recipients wanted to get these useful newsletters on a daily basis, not weekly.
The objective was to increase the frequency from weekly to daily intelligence newsletter reports, with the same high-quality content and insights in these newsletters. But it wasn't possible because the existing process was painstakingly time-consuming:
Time spent on manually searching for information across multiple sources
Time spent on reading and analyzing all the updates
Time spent on manually writing insights and preparing the intelligence newsletter
It wasn't possible unless the time-consuming parts of the process are automated. The team was looking for a solution that can not only automate the searching for information but also help in the extraction of insights, and also automate the process of creating the intelligence newsletter with minimal manual efforts.
With the help of Contify, the team implemented a custom market intelligence solution, which not only automated several time-consuming manual parts of the process but also added insights with the help of Contify's in-house domain experts.
Examples of Automation Using Text Analytics and Machine Learning
Removed unnecessary text from the updates, e.g.

Datelines were removed, e.g.:

SAN FRANCISCO, Jan. 1, 2019 /PRNewswire/ —
News Release — October 03, 2018 TYSONS, Va., Jan. 3, 2019 —

Introductory or marketing text was removed, e.g.:

"DXC Technology, the world's leading independent, end-to-end IT services company, announced" was changed to "DXC Technology announced"

Stock tickers were removed, e.g.:

Removed the ticker (Nasdaq: TBBK) from "The Bancorp, Inc. ("Bancorp") (Nasdaq: TBBK) today announced..",

Added contextual information:

Changed text from "Today" to the current date
Normalized designations such as Vice President to VP, Chief Financial Offer to CFO, etc.
Categorized updates with topics such as M&A, Management Change, Business Expansion, etc.

Replaced updates from paid sources with updates from freely accessible sources:

Contify's technology identifies that the update is from a paid source and replaces it with a similar article (if available) from a non-paid source
Example of Insights Derived From Using a Hybrid System
Contify leverages summarization algorithms for extracting insights, but current algorithms fall short at understanding the context of information and fail to extract accurate insights. Contify technology was able and extracts important facts and quotes from the updates, but with some errors and omissions. To address this limitation, Contify supported the process with the help of domain analysts, who reviewed and edited the insights. This is where Contify's hybrid system, with intuitive workflows, truly excels. Example of insights:
During Q1'2019, professional and financial service providers, and insurance brokers witnessed executive movements at their top management roles

EY appointed Carmine Di Sibio, Global Chairman & CEO, succeeding Mark Weinberger
Mercer appointed Martine Ferland as the CEO & President, effective March 1, 2019
Citigroup appointed David Livingstone as the CEO, EMEA region
Barclays appointed Jacquelyn Titus as the Head, Financial Institutions Group, Canada
Oliver Wyman appointed Klaus Hoelzer as the Head, Finance & Risk, EMEA region

Large technology players entering into strategic alliances and acquisition to expand their digital capabilities for disruptive technologies such as IoT, AI, Machine Learning

AWS partners with Bsquare, a US-based IoT services provider, to meet the increasing demand for Industrial Internet of Things (IIoT) services. Recently, it also acquired CloudEndure, an Israel based cloud computing firm, for USD250mn
IBM and Vodafone, entered into a JV, to expand their AI, cloud and 5G offerings in the European market
DXC is planning to acquire Luxoft, a Switzerland based IT solution provider, for USD2bn to enhance its digital offerings portfolio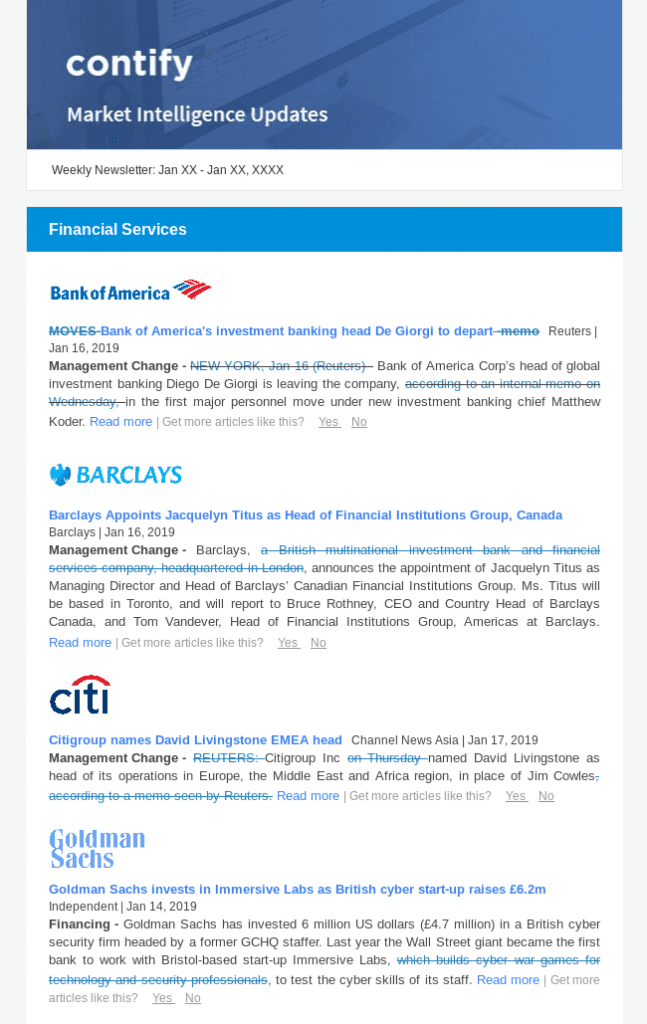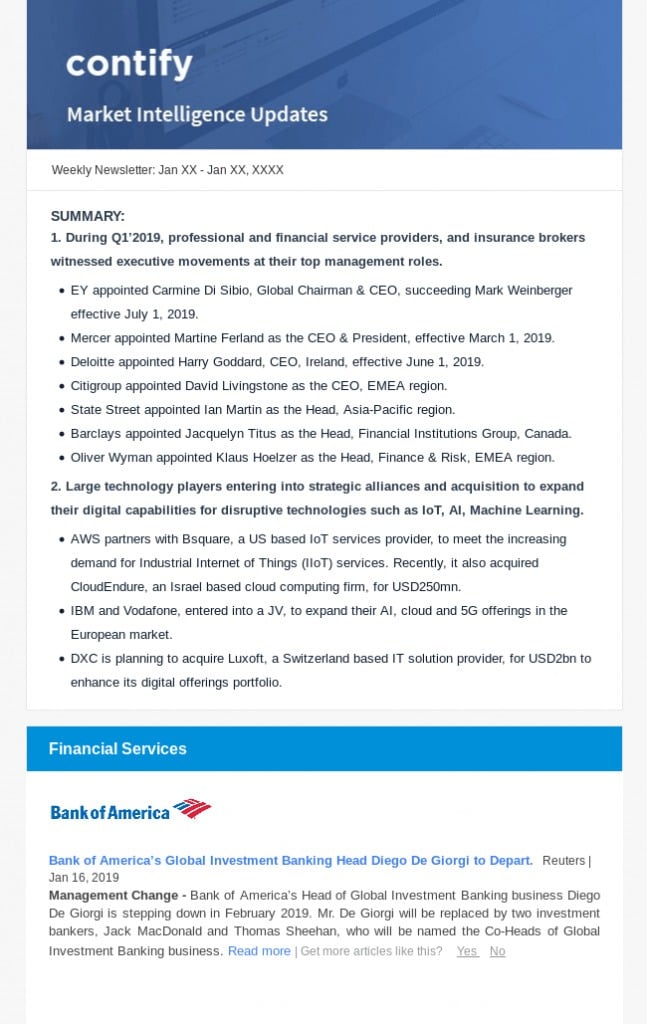 The strategy team increased the frequency of sending intelligence newsletters from weekly to daily intelligence newsletters. This resulted in an 85% reduction in time delay between when the information was available and when it was reported to the top management.
The intelligence reports created using Contify's market and competitive intelligence tool resulted in 70% time saving for the company. The daily targeted intelligence newsletters gave more time for executives to consume the information and proactively take necessary actions.
85

%

Faster delivery of strategic updates

2

x

Faster decision making enabled

70

%

Time-saved in manual research