A global management consulting firm analyzed weak signals revealed in the quotes and posts by the key executives of its competitors and clients. This analysis enabled the firm to gain insights into 1) changes in its market landscape and 2) competitors' positioning. The firm deployed Contify's Market & Competitive Intelligence platform to identify market shifts and gaps in its competitors' positioning. It used them to build its data-driven positioning strategy and to prepare the firm for the forthcoming changes in its industry. 
A management consulting firm with more than 100 offices worldwide and a significant presence in APAC, EMEA, and the Americas. It has 20,000+ employees and generates around USD 10 Billion in revenue annually.
Management consulting firms play a central role in the development of the overall global economy. They advise the world's largest organizations and governments on their most consequential decisions. Their recommendations are invaluable for these reasons: One, they are based on rigorous analysis by some of the finest brains in the world. Second, because of the experience these firms have working with different clients, they have access to industry-wide best practices and insights that are not readily available within most organizations. The big three firms, McKinsey, BCG, and Bain (MBB), have total revenues of about $30B and employ approximately 70,000 people. Overall, the management consulting industry is estimated to be around $300B.
Changing Industry Dynamics
But the management consulting industry dynamics are changing faster than ever. Several macro factors that are forcing these changes: 
 Their work is under more scrutiny than ever because of recent scandals, such as their support of the opioid industry or profiting from corruption in Angola. 

 Their clients now demand more than just advice. They want these firms to help implement their recommendations and stay involved until the expected business results are achieved. That means more risk and point-of-failures.

 Recent growth spurt in their business is because of temporary structural changes in industries, such as ESG initiatives, digital transformation, and supply chain disruptions post-COVID. Sooner or later, these disruptions will settle down, and the firms will have to find other growth drivers. 

 Last but not least, Big 4 account firms are encroaching on their territory by acquiring smaller management consulting firms. For example, PWC, Deloitte, and EY acquired Booz & Company, Monitor, and Parthenon, respectively. EY has since spun off its consulting business to bring agility and compete aggressively for a lucrative management consulting business.
Management consulting firms must adapt quickly to their fast-changing market landscape to stay ahead of their competitors. Therefore, they need to prepare ahead by watching out for weak signals. The weak signals indicate forthcoming changes in the market landscape and competitors' positioning before these changes become a market reality. 
"One of the strongest sources of weak signals are quotes, posts, and thought leadership articles by the key executives." 
Key executives of management consulting firms are the custodian of their brands. They are the leading experts in their respective fields with specialized knowledge and know-how. These executives are sought-after by industry professionals, associations, analysts, and journalists for their views and opinions. To maintain a thought leadership position, they share ideas on social channels, such as Linkedin and Twitter, make forward-looking statements at public events, are quoted on digital media by the audiences at their events and seminars, and share opinions on various media channels.
Therefore, the firm decided to monitor not just their competitors but the communication of key executives of their competitors and its existing and potential clients. This market monitoring was essential to spot weak signals, prepare for forthcoming industry changes, and re-positioning the firm with the help of its own executives' thought leadership.
The objective was to develop a data-driven strategy by aggregating this data and benchmarking it against their own.
Traditional market monitoring systems weren't effective because key executives were less active on traditional media such as news or TV channels. Instead, they were engaged on multiple digital channels to communicate their views, opinions, and ideas. Complicating this further, they directly interacted with industry associations, colleges, government officials, and regulatory bodies. 
"To maintain thought leadership, the executives must be present where the audience is."
The firms used multiple monitoring and social listening platforms to address this challenge. They even tried to collect this data manually. But it failed because of excessive data, digital noise, irrelevant updates, and an increasing number of digital sources to track. The whole process was labor-intensive, time-consuming, and non-scalable. In addition, important strategic updates were missed in the digital noise.
To achieve its objective, the firm decided to deploy a sophisticated market and competitive intelligence (M&CI) platform custom-built for its use case. After a detailed evaluation process, the firm gave this mandate to Contify.
Contify quickly configured the platform and hit the ground running. The configuration was designed to meet the firm's immediate and long-term business objectives.
The following immediate goals formed the basis of the configuration: 
Monitor key executives of the firm and those of its competitors, clients, and prospects, including quotes, social posts, and thought leadership articles

Monitor key executives of its clients to understand their challenges, position on current affairs, and priorities

Map the communication of all the key executives and spokespersons with the firm-specific taxonomy with custom topics, themes, and industry segments. This was essential to benchmark, identify trends, and draw a macro picture of the changing market landscape. 

Track deep pages of government departments and agencies' websites both at the federal and state level because the government was one of its largest clients

Trigger automated instant alerts for any negative news or adverse mention of the firm's brand in social media. Use machine learning to remove noise and activate alerts only for critical updates.
Customized Taxonomy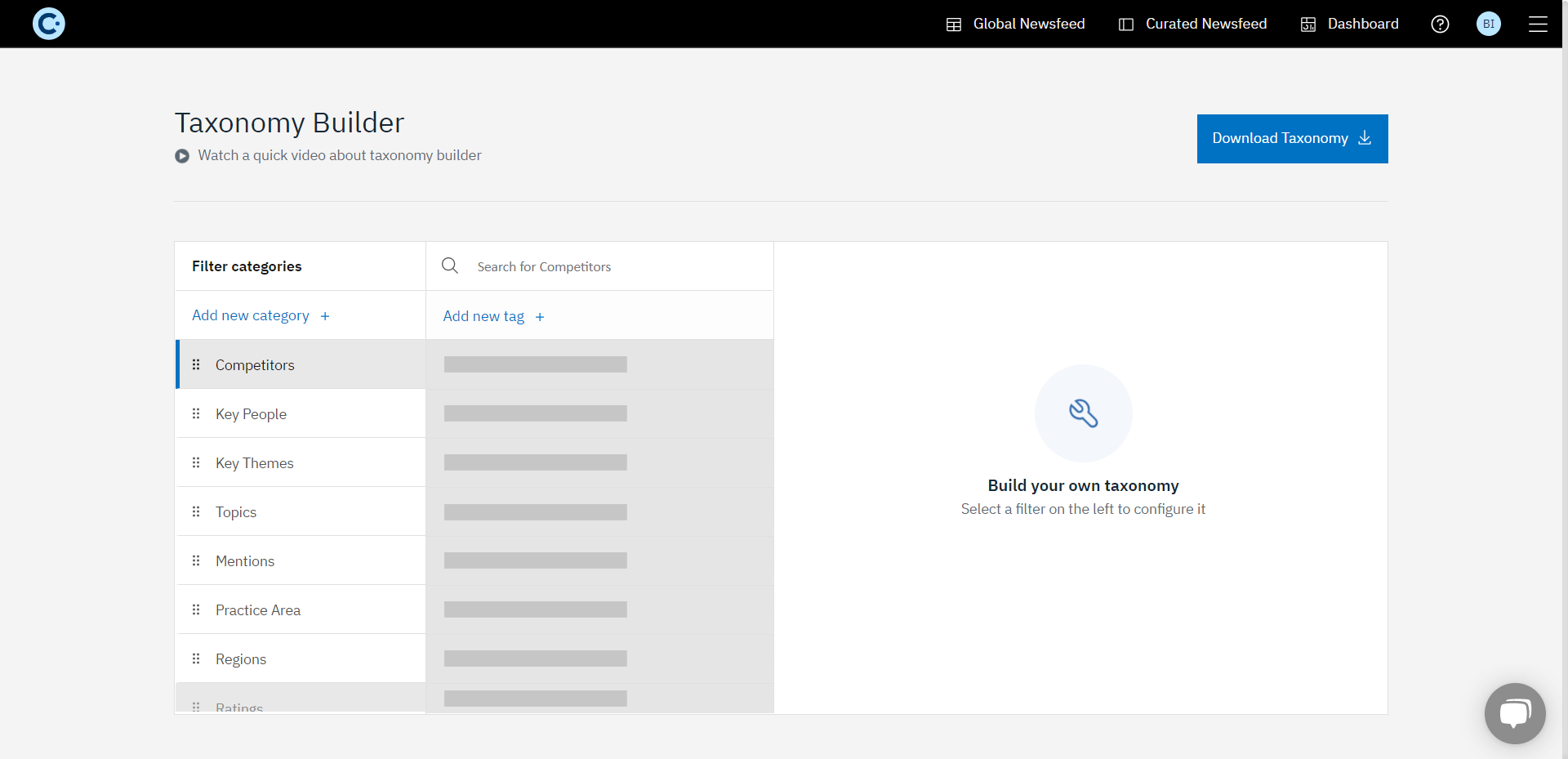 A customized taxonomy was configured to model firm-specific market and competitive landscape. The taxonomy consisted of the key executives, strategic topics, focus areas such as sustainability, climate change, digital transformation, artificial intelligence, and industry segments targeted by the firm. In addition, the upcoming industry segments, like ed-tech, growth-tech, etc., were configured to help the firm pitch to potential clients.
The custom taxonomy was the foundation of the intelligence platform. It was essential to derive intelligence from information by adding the firm's context to the market updates. 
Custom Sources
Custom sources were added to ensure that no critical information was missed, including deep web pages of government and regulatory websites, social handles of key executives, and more. Custom rejection rules were also developed to remove irrelevant updates automatically.


Newsfeeds
Relevant updates were delivered through curated newsfeeds that utilize AI/ML to tag the updates with the custom taxonomy. This transformed the text into structured data, essential for driving insights and providing actionable insights into competitors' activities. The machine learning models extracted an automated summary, leadership quotes, and facts from the updates. Users also used custom taxonomy-based tags to discover new updates and narrow their search results. 
Dashboards
Contify's customizable dashboards were configured with the help of intuitive charts and widgets according to the insights expected from them. These widgets provided a snapshot of the market and competitive landscape related to the key strategic objectives. Multiple widgets were configured to analyze key executives' thought leadership and competitors' positioning across various channels. For the initial launch following dashboards were configured: 
Strategic view: Birds-eye view of competitors' and clients' strategic activities, such as management changes, business expansions, operational issues, new partnerships, and more.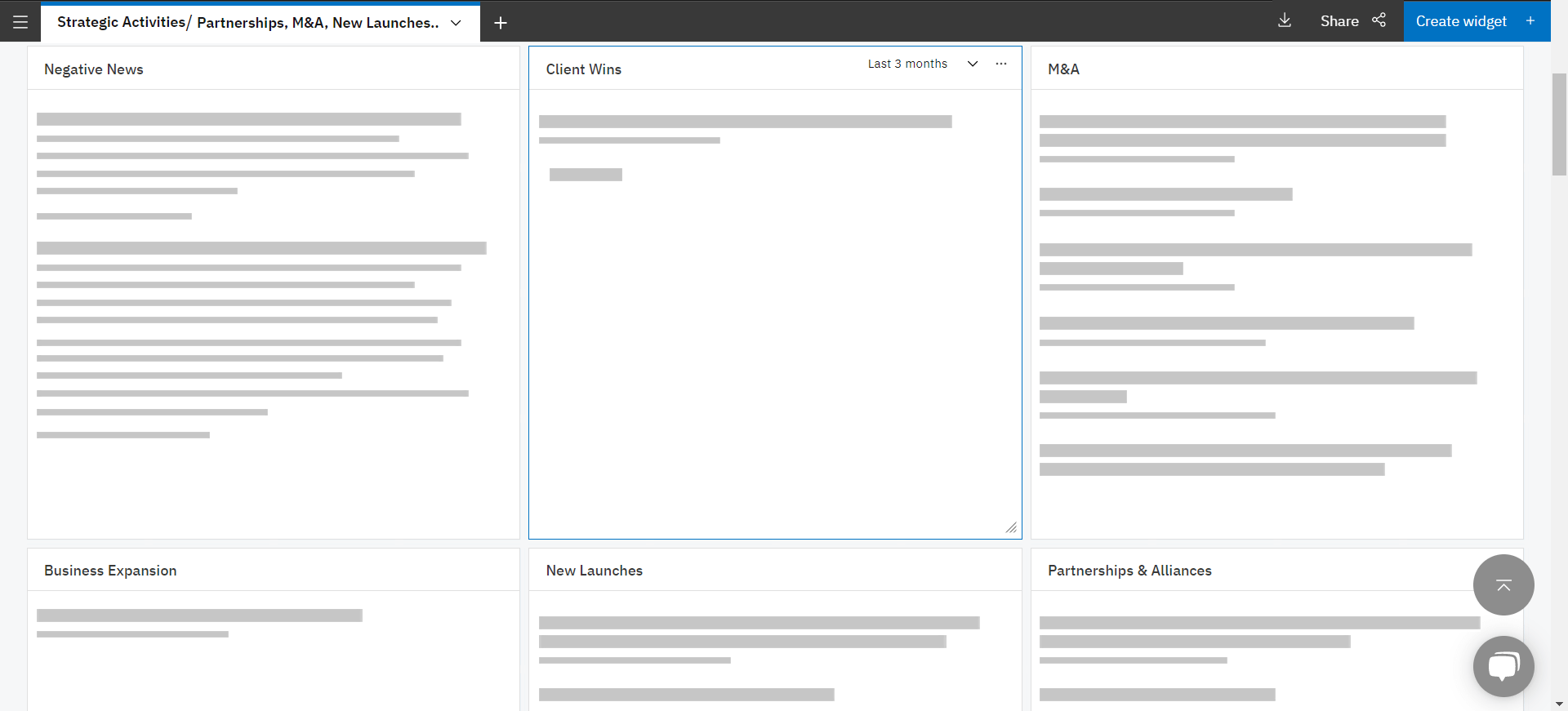 Marketing view: Benchmarks of the firm's thought leadership and other marketing communication vs. its competitor. Information sourced from all forms of digital media (for example, competitors' websites, government/ regulators, press-release, and news websites). This was further categorized based on various themes and topics of interest, like climate change and sustainability, artificial intelligence, digital transformation, etc., to identify gaps, patterns, emerging themes, and trends.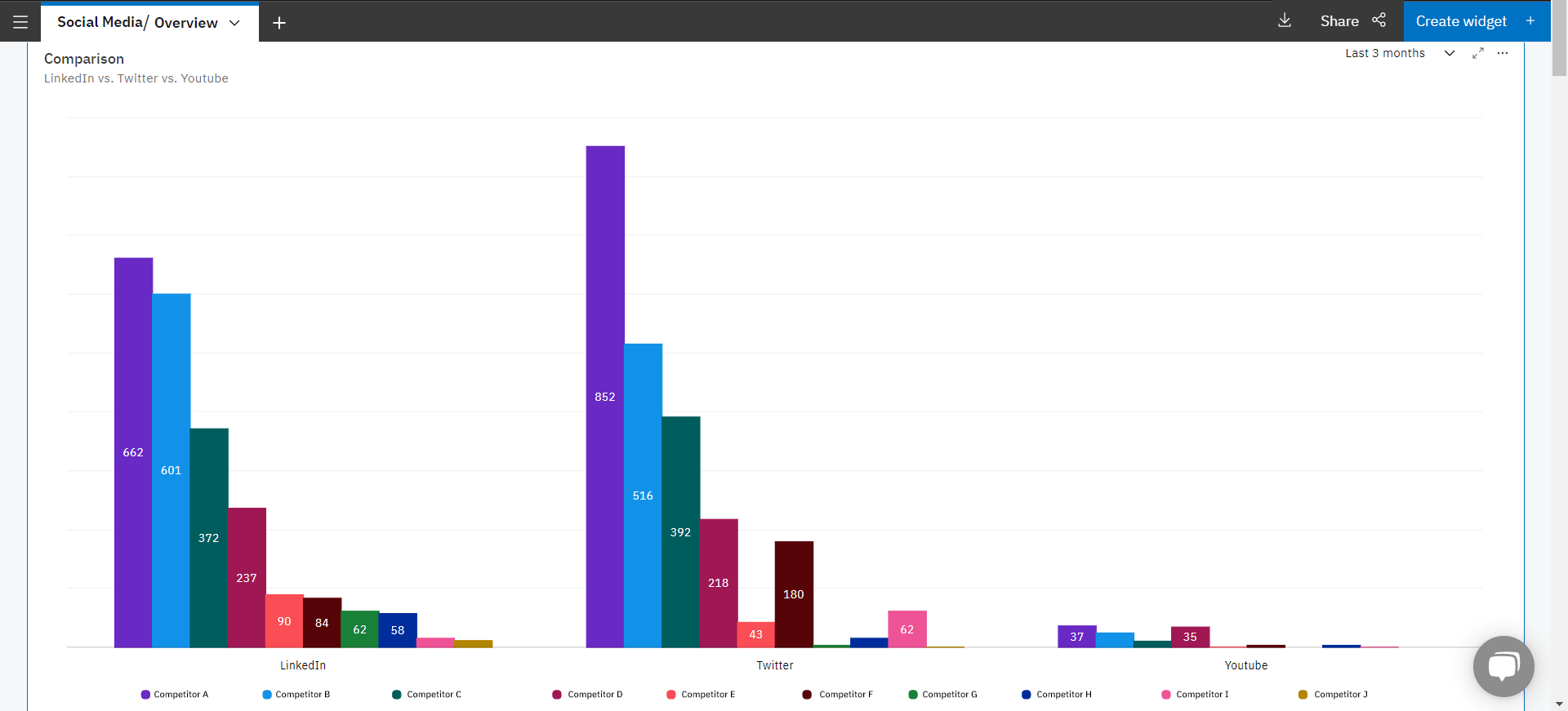 Key Executives: Capture and analyze direct quotes of its key executives, what they are saying and what is being said about them. The dashboard enabled the intelligent collection of media mentions of its key executives, their social posts, thought leadership articles, and positioning on various key issues and industries they focused on.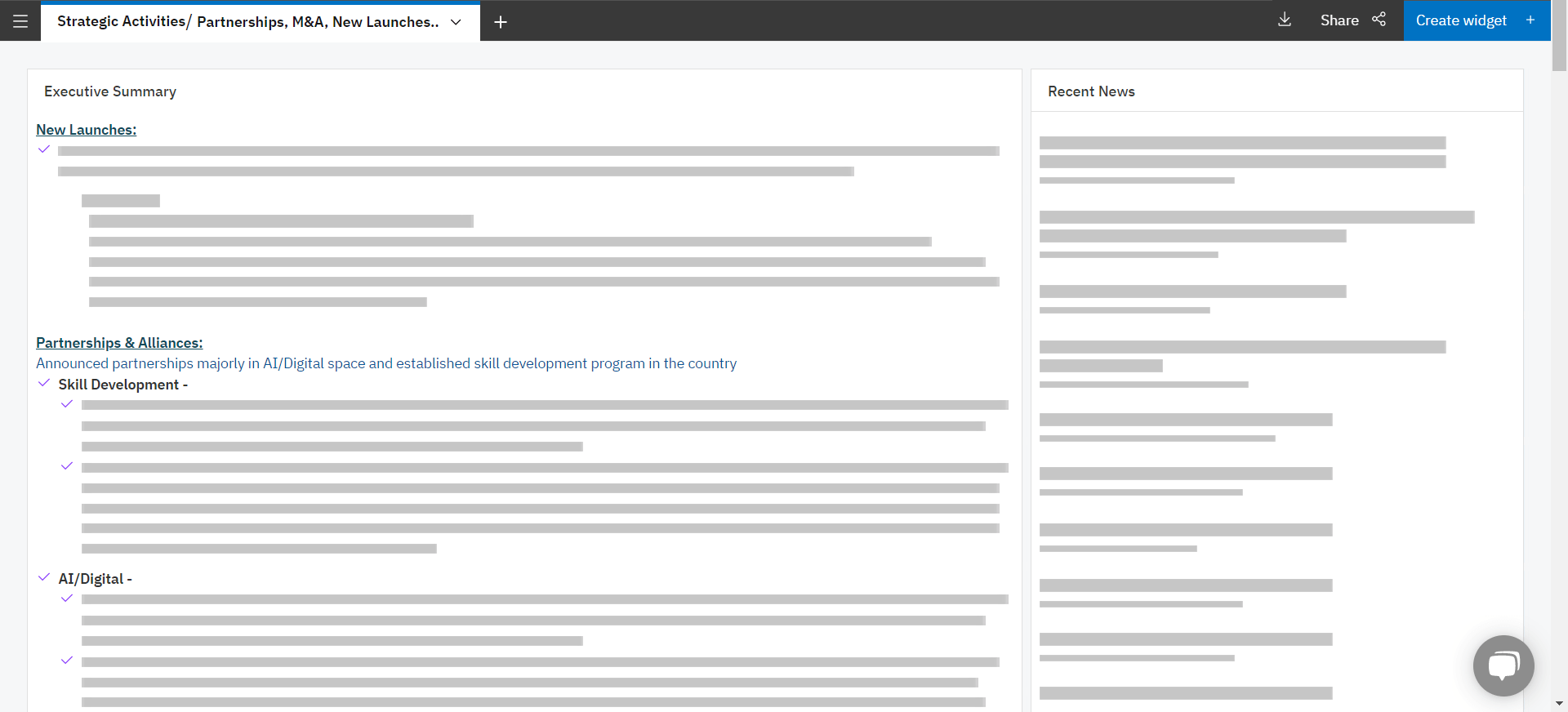 Firm's Digital Footprint: Enable 360°monitoring of the firm's brand in digital and social media, covering mainstream and relevant regional publications, industry associations, social media channels, and more.
Contify's Managed Services
In addition to Contify's AI-enabled M&CI platform, the firm also subscribed to Contify's managed services. Contify analysts acted as an extension of the firm's internal team and supported it in producing different CI deliverables and adding relevant insights. Contify analysts developed a deeper understanding of the firm's business context, strategy, and competitive landscape by working closely with the firm's CI team. Contify analysts supported these deliverables: 
Newsletters: Weekly/Fortnightly/ Monthly with background details, commentary, and analyst notes

Analyst Briefings: Summary of key updates and events with additional context on their impact and why they are relevant for the firm

Monthly/Quarterly Report: Presented Month-on-Month and Quarterly Trends and identified emerging themes

Featured/ Thematic Deep Dives: Detailed analysis of any critical development or a specific theme or trend. For example, a particular competitor's marketing activity, focus areas, and GTM strategy.
Challenges In The Implementation
No Market and Competitive Intelligence platform can meet its business objectives with out-of-box configuration. The platform needs to adapt to the context of the firm and its different functions and evolve continually to changing market conditions. One of the challenging aspects of implementing an M&CI platform is getting feedback from stakeholders for its evolution.  
To get around this challenge, the firm's marketing team relied on Contify's easy-to-use features, such as Newsletter NPS, feedback from the newsfeed, and advanced usage analytics. With its help, the marketing team was able to:
Collected both macro and micro-level feedback on the intelligence from the stakeholders

Track user engagement with different kinds of updates

Analyzed the content consumption pattern and what was being clicked at an aggregate level to gain insight into the firm's user preferences
This information was the input to:
Fine-tune noise-filtering

Identify new sources of information

Source relevant information and deliver actionable insights 
Based on the usage analytics and feedback, the platform is continually optimized to deliver maximum business value to its users. It took a few months of iterations to get the buy-in from the stakeholders and achieve the desired alignment among leadership, strategic communication, and marketing teams.
Differentiated thought leadership positioning with data-driven market and competitive intelligence
Leveraging the data and insights from the platform, the firm's marketing team discovered gaps and white spaces in their competitors' thought-leadership positioning. In addition, it monitored clients' key executives to understand the issues and their priorities. By combining this information from competitors' and clients' executives, new topics and themes were discovered that were paramount for their clients but not discussed by their competitors.
For example, competitors' key executives were busy sharing their views on sustainability and climate change. They were even discussing the future of space travel and flying cars. But they missed the need for multi-purpose high-rise buildings discussed by local government officials, one of the firm's key clients. 
Based on such insights, the firm's marketing team proposed a thought leadership strategy for digital and social communication to its key executives, enabling them to capitalize on new opportunities by sharing their views on the interests of their clients and untapped themes. 
The insights from the platform also help the firm identify weak signals before they become market reality. For example, so far, the management consulting industry has escaped the regulations governing lawyers and bankers. But in the wake of recent scandals, their industry is under heavy scrutiny. This could change very fast. Therefore, the firm decided to keep a close watch on weak signals, such as the executive movements between government jobs and consultancies, which could potentially trigger the next scandals and curtail their freedom forever.
The Contify platform served as a one-stop access platform for intelligence and insights specific to the business context of the firm. The firm can now visualize and compare data to identify weak signals indicating market shifts, blindspots, trends, and untapped whitespaces. It enabled the firm to efficiently monitor its market and benchmark its activities against its competitor to develop data-driven thought-leadership strategies.
The firm developed a differentiated positioning and activated it consistently across the organization, cementing its status as a global leader in management consulting.