The management consulting firm, founded in the early 1970s, through its network of 7,500+ professionals in 100+ locations around the world, serves clients from startups to Fortune 500 companies across diverse geographies and industries.
The firm has a team of 100+ research analysts who support consultants and senior management with information on industry trends, customers, and competitors.
It was a herculean task for analysts to track markets and competitors across geographies, services, and industries. Streamlining this process of gathering market intelligence was imperative to maintaining the firm's competitive edge.
As part of a company-wide digital transformation initiative, the firm sought to automate the collection, analysis, and dissemination of market intelligence. The plan was to leverage machine-learning technologies to implement a centralized market and competitive intelligence portal that is tailored to the specific intelligence requirements of their research analysts who serve different stakeholders across diverse industries, services, and geographies.
Creating a single market intelligence platform that automates and simplifies complex analyst workflows, which included tracking their market and competitive landscape by searching Google, sourcing information from subscription databases, and tracking regulatory portals and competitors' websites.

Tracking Intelligence Across Multiple Foreign Languages
With a global presence to the tune of 100+ offices and 7,500+ professionals worldwide, keeping abreast of local developments in the local language is a quintessential prerequisite in delivering timely updates to senior partners.
Making use of Contify's SmartTranslate feature, intelligence was sourced from local and niche publications in multiple foreign languages and processed by Contify's AI-enabled market and competitive intelligence platform to give each analyst the most comprehensive snapshot of the region they serve.
Keeping Tabs on the Competition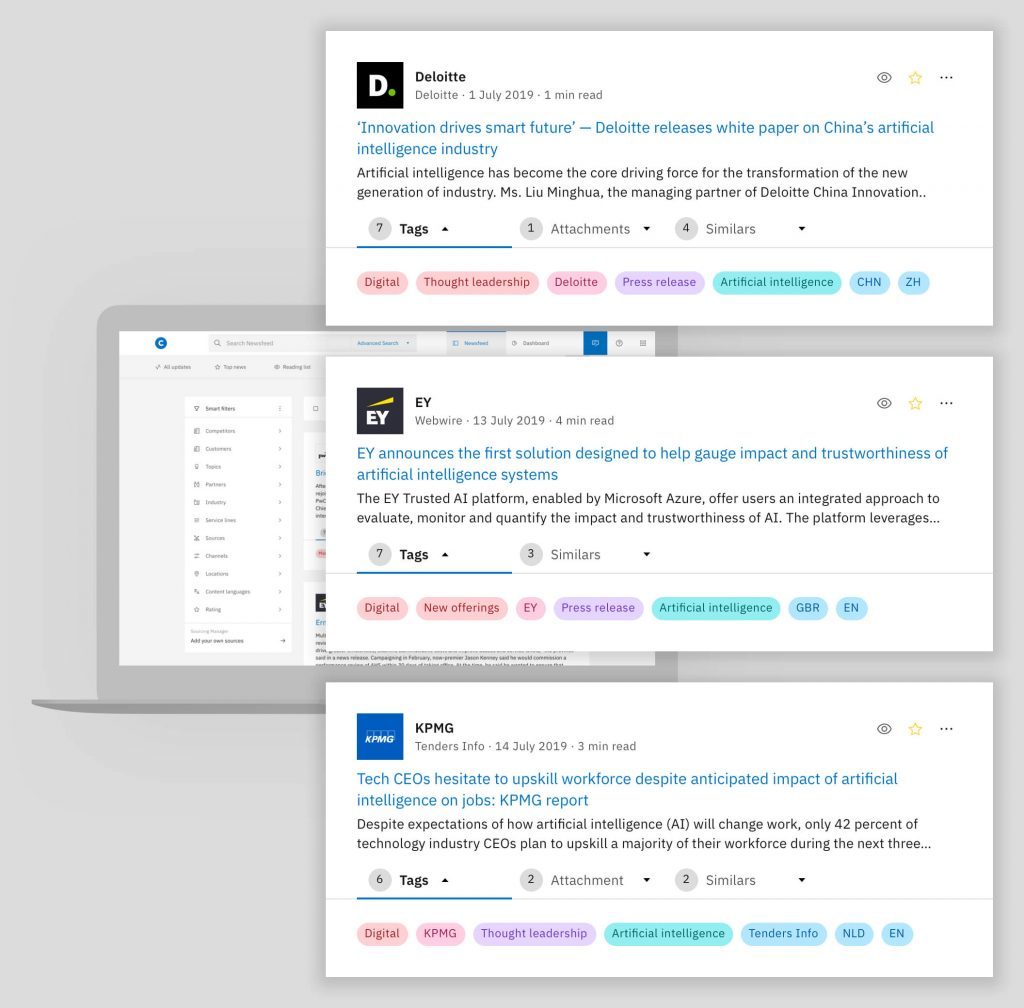 The consulting firm's competitors were just as colossal in terms of scale and diversity in their business activities.
Contify configured the market and competitive intelligence platform to track the firm's competition by writing custom crawlers to monitor intelligence signals from more than 5000 URLs. These included competitor's websites to track thought leadership and press announcements, social media handles to monitor event participation and hiring exercises and news updates to track legal and operational challenges, business expansion and management changes.
Integrating Custom Consulting-Specific Sources
Over and above access to intelligence from the 200,000 sources that come standard with Contify's market intelligence platform, we integrated intelligence from several niche consulting-specific publications, and government and regulatory portals.
Tailoring Contextual Noise-Filtering Algorithms to Work for Different Analysts
Not all intelligence updates have strategic value. The strategic importance of an update is subjective and largely depends on the context as well as the analyst's use-case. For example, a quote by a competitor's spokesperson published in a news article can either be interpreted as just another PR activity or analyzed to extract a hidden strategic signal.
We worked closely with the firm's analysts to custom-tailor Contify's machine learning algorithms to filter intelligence depending on their different subjective requirements.
A Taxonomy Customized to Match the Firm's Internal Business Structure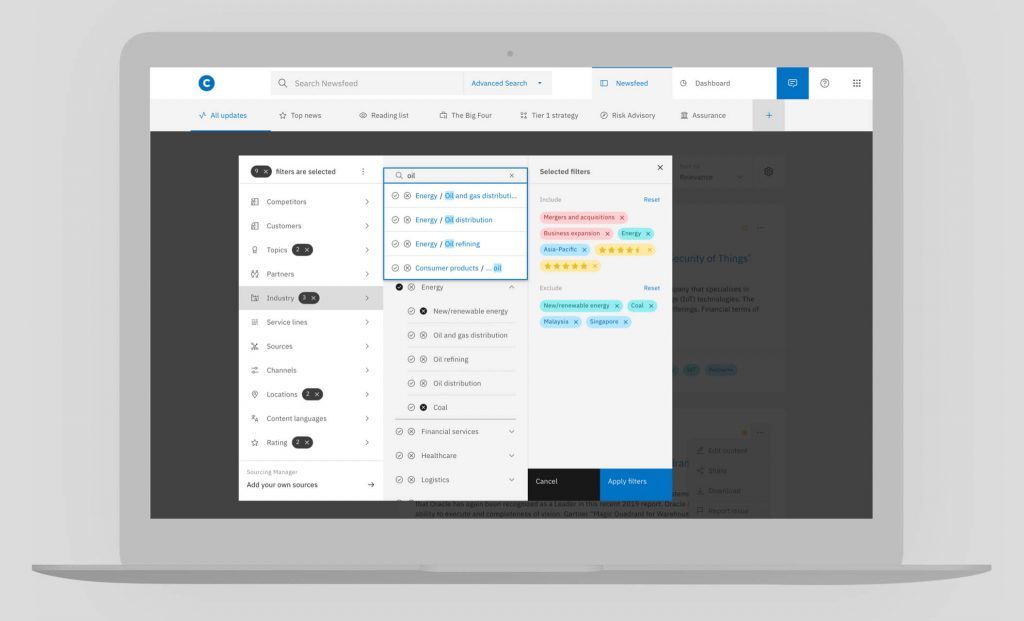 Managing information in a manner such that it is retrievable through a taxonomic structure that resonates with all stakeholders — from analysts to senior leadership – is key to any successful intelligence program
Contify's market intelligence platform was configured to organize the sourced insights to reflect the firm's internal business structure across:
Services offered (tax, advisory, assurance, legal)
Strategic topics (management changes, business expansion)
Industry verticals (technology, energy, automotive, consumer goods, and life sciences)
Content types (news, thought leadership, press releases)
Enabling Exhaustive Competitors Tracking
By automating the gargantuan task of monitoring and tracking over 5000 URLs, Contify enabled the most ambitious competitor tracking program at the firm.
Empowering Analysts to Drive Impactful Research
Harnessing the power of Contify's robust sourcing engine and noise-free intelligence feed, the firm saved each analyst 10 man-hours a week — less time spent searching, more time available to deliver meaningful and actionable intelligence.
Enabling Faster Decision-Making Based on Holistic Market Intelligence
By enabling the faster delivery of actionable intelligence from the research team to the firm's senior partners and decision-makers, Contify enabled swift and confident decision-making. The comprehensive coverage of insights derived from the continuous monitoring of thousands of sources helped the firm to strategically position its services against their competitors to capitalize on new opportunities.
10

Hours per week analyst time optimised

2

x

Faster executive decision making enabled

50

+

Research analysts empowered