The marketing company that controls a third of the in-store ads and grocery coupons business in the United States works with several stakeholders across the value chain. They were finding it challenging to stay on top of their market landscape – competitors, vendors, retail partners, and several industry associations. They were using Google Alerts to track companies and the retail industry but the management and executive teams that got these alerts were overwhelmed with the volume and disappointed with the number of irrelevant updates. What they wanted to know about was high-impact events like new offerings, M&As, business expansions, partnerships, etc. They approached Contify to explore if we could deliver a daily market intelligence report covering high-impact updates about key stakeholders and their industry.
Working alongside the client, we organized their market landscape into seven categories. These were:
Competitors
Retail partners
Vendors
Companies of interest
Potential customer partners
Associations
Retail industry
We then configured our market intelligence platform to track companies in these categories. This activity included:
1. Defining key topics – In order to determine what updates qualified as intelligence for the management and strategy team, we consulted with them and arrived at nine topics – new offerings, M&As, business expansions, partnerships & alliance, management changes, events, funding activities, negative news, and financial & business performance.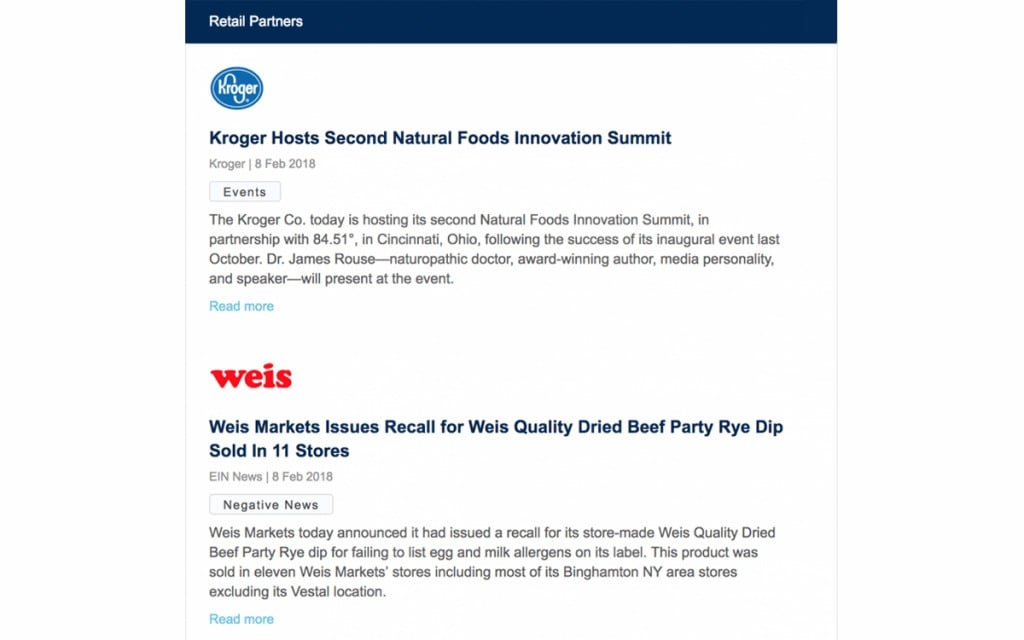 2. Real-time updates – Not all updates are created equal. Some are so critical that they need to be delivered in real-time. Based on the brief given by the client, we defined high impact events as those which are time-sensitive and might have an impact on the company's strategy. Some example of such high impact events include:
News Corp and Telstra complete transaction to combine Foxtel and FOX SPORTS Australia- The merger involving our client's parent company and Telstra would open up new opportunities and synergies
Winn-Dixie operator Southeastern Grocers files for bankruptcy- The bankruptcy of a retail partner would impact our client's business
Valassis Acquires Maryland Pennysaver- Any acquisition by a competitor strengthens their position in the market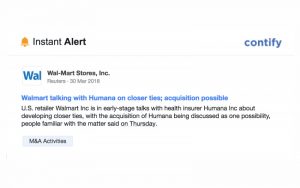 3. Defining the industry – Simply tracking an industry using a keyword can be inefficient. Some industries generate a high volume of content, retail being one of them. We looked at key sources that were generating the bulk of retail industry intelligence as defined by the client and integrated them into our platform. By focussing on sources instead of keywords, we were able to deliver industry intelligence instead of good-to-know information.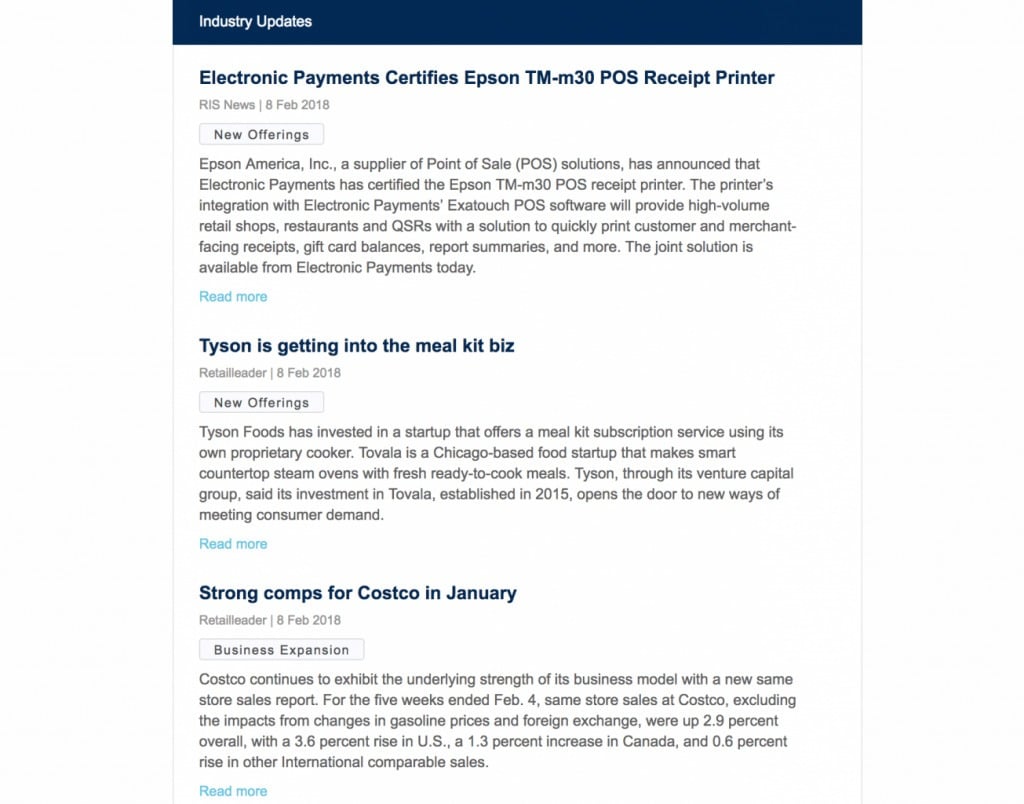 Analyst Curation: When market intelligence is consumed by the management and strategy team, what qualifies as intelligence is highly subjective and cannot always be automated using technology. For example, consider this news update about a Kmart store in Valencia Boulevard shutting down – Kmart Valencia Reaches Final Days Of Operation. This was a critically important update for the strategy team but the story had no keywords to flag if it was about the retail chain or a single store. Because of curation, the story made it to the client as an instant alert.
Selective coverage: While using Google Alerts, our client would get follow up stories about an event. Barring an exception or two, these follow up stories were viewed as junk internally. Our analyst team made sure that only one unique story was covered by Contify and all follow-up coverage was removed from the system.
Consolidating sources: The client had subscribed to four different newsletters for industry news. These newsletters had some useful information but also irrelevant stories. We integrated these sources into Contify and funnelled the content published by them into the industry updates section of the newsletter. Not only did this spare the teams from having to read four different newsletters but they got only select updates from these sources which qualified as intelligence.
With Contify, our clients are able to track 79 companies. Our Market Intelligence newsletter is the only briefing read by its management and strategy team every morning. The team has received over 60 instant alerts about high impact events.
36

%

More time available to generate insights

20

%

Higher open rates for intelligence reports

2

x

Faster decision making enabled