Founded in 2016, this fintech platform allows users to invest across direct mutual funds, exchange-traded funds (ETFs), stocks, and IPOs. It also provides tools for stock and portfolio analysis for investors. The company gained unicorn status in 2020 and was valued at $3 billion last year. It has 600+ employees and generated a revenue of $5 million in FY2021, reporting a profit.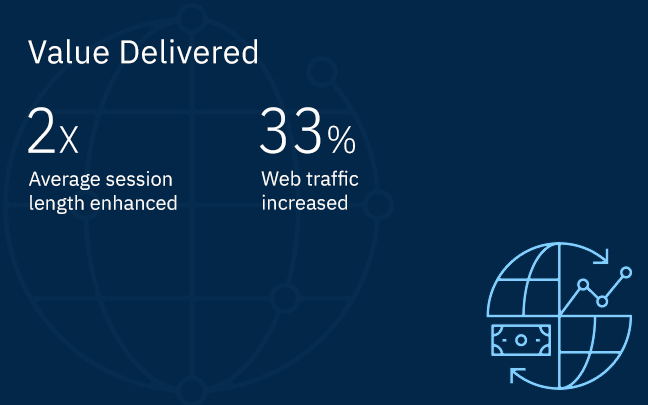 The explosive growth of the fintech industry is transforming how people manage their finances by providing secure, responsive, and reliable digital services. Our fintech unicorn too, has an exceptional goal – to empower individual investors with the same level of updated information as professional brokers and institutional investors. The company's core offering is an intuitive trading app that allows users to trade and invest in stocks and mutual funds. However, to offer a comprehensive, smart, and informative experience to its users, the company wanted two key features in their app. One, to deliver the latest information on the listed companies, and two, to deliver the trends analysis and research reports on markets.
Tracking strategic information on thousands of listed companies that can impact their stock prices isn't easy. While identifying the right places to look for intelligence, the company also had to filter this information into their application in a contextual and noise-free manner so that it can enable the user to make informed trading decisions.
There were many companies with similar names, therefore, disambiguation was a key challenge, and so was getting only market-moving news updates in near real-time.
Manual research was not an option. Thus, the company decided to develop an in-house system to aggregate this information.
After several attempts, the accuracy and performance were not meeting user expectations. The company also evaluated several News APIs, but most of them were designed to track brand mentions for marketing purposes, not for investors to make informed decisions.
The fintech company needs a News API that could:
Track strategic updates based on concepts, not just keywords; and filter the market moving signals from noise.
Identify the right company i.e. "GAP" (the company) and "gap" (the space between two objects)
Disambiguate between company names Tiger (shoes) and Tiger (investment firm) and Tiger (the man-eater)
Deliver relevant and contextually tagged news in the form of a continuously updated feed in near real-time
Provide comprehensive coverage by aggregating relevant updates from not just leading global news sources, but also from local and regional media sources
Allow seamless integration with the company's online platform without any change to the existing platform
After an extensive evaluation process, Contify's News APIs were selected to meet the requirements for this task.
The Contify team first thoroughly analyzed the company's value proposition, users, and its platform to develop a deeper understanding of the context and the type of information relevant to the app of the company. Contify then customized its News APIs solution in the following manner:
Sourcing of information
Contify worked closely with the Company's product team to identify the sources and signals relevant to their users. To provide value to the users, the team decided on including content from only editorially selected sources, which can qualify the following two criteria:
Timelines: Sources that are the fastest to provide the information – "genuine" breaking news
Uniqueness: Sources with strong editorial teams to provide fresh and unique perspectives on market-moving developments
Contify set up a comprehensive monitoring system to track these websites for new updates, announcements, press releases, as well as niche coverage on specific industries. Some of these sources were less popular regional news websites with strong local coverage. Contify, in addition to pre-configured sources, integrated more than 300 custom sources for the company.
In addition to curated news sources, the company also wanted to track specific concepts and topics, without getting any irrelevant results or miss out on important insights.
Delivery through APIs
Using Contify's News APIs, these curated updates were pushed as real-time updates to the company's servers, to be rendered on their platform. The company's engineering team seamlessly mapped the end-points to fetch near real-time updates into their platform. Post API integration, the company's platform started providing unique and strategic updates on the portfolio companies to its users — without any delay. 
Enhanced value proposition
Harnessing the power of Contify's robust sourcing engine, the firm was able to provide its users with a holistic coverage of news and updates related to the stocks, IPOs, and mutual funds they've invested in, or would like to invest in. These updates were now available to users in near real-time.
Increased app usage
The company's platform saw a substantial increase in usage soon after the integration of Contify's News APIs into their app. According to the Product Manager at the company, the quality of sources, and the better-informed content that accompanied it, were crucial in generating increased usage.
Extended average session length
With near real-time financial market news and updates now a key feature of the online investment platform, the app saw an increase in the average session duration of its users.
2

X

Average session length enhanced.

33

%

Web traffic increased
"It had been one of our core goals to deliver information on all public-listed Indian companies, as well as the latest news and insights related to financial markets to our users in-app, right from the start. With Contify's News APIs, we were able to quickly launch this differentiating feature as per our plan. The quick increase in web traffic and the average session length is an added bonus. What further justified our investment was the ease of integration of the APIs, and the unfailing support from Contify's team."
– Product Manager, Fintech Company