In the 19th century, the insurer has presence in 50+ countries across the globe with operations in Western Europe, North America, APAC, Middle East, LATAM, and Africa. It has 100,000+ employees and generates over USD 100 bn in annual revenues. It offers products across lines of insurance such as Life, Property, Casualty, Health Reinsurance, Specialty, and other sub-segments in the global markets. It serves both individual and commercial clients.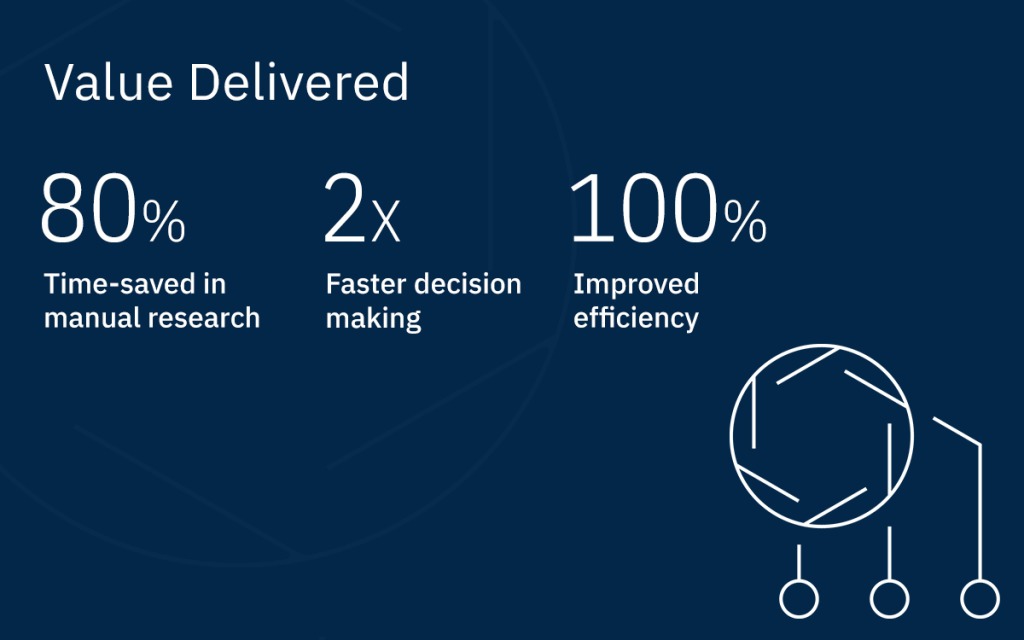 The global marketing team of the insurer in line with the company's strategy and vision need to capture competitive and market insights on two fronts:
The Global competitive landscape across lines of insurance, such as property, life, specialty, etc. – including the top ~150 global insurance behemoths.

Specific emerging/target markets – including the small emerging start-ups and fintech firms.
Before approaching Contify, the insurer's teams used to send monthly newsletters on emerging markets. The insights were sourced from Google alerts, insurance magazines, thought leaderships from competitors, etc. However, the insights captured in these newsletters were lacking a global perspective on regional trends.
The insurer also tested other market and competitive intelligence solutions in the market but was extremely dissatisfied with the irrelevant insights delivered by these solutions. More so, these solutions were not user-friendly and lacked basic features such as an option to retrieve the information using filters or relevant tags. As a result, the global team ended up manually scavenging ~20-25 thousand articles in a month. Further, the information was shared through monthly newsletters drafted in plain non-indexed documents. Also, there was no central repository to roll out frequent updates to a long list of subscribers.
To mitigate this challenge, the insurer wanted an automated market intelligence platform that meets the below requirements:
1. Monitoring global competitive landscape across lines of insurance, covering:
Key emerging/disruptive technologies in the market, including both large and small Fintechs, Insurtechs

Regulatory challenges faced by the company and the competitors across geographies; such as online sales of insurance products, coverage/benefits/risks, etc.

Events, Exhibitions, Seminars where the industry representatives are present

New product launches, innovative offerings, collaborations, and partnerships 

Other business topics, such as M&A, Financial Performance, Leadership Changes, etc.
2. Tracking specific emerging/target markets:
Focus on emerging start-ups including innovative product launches, digital or value chain innovations, launching of mobile apps by the competitors, etc.

Mergers, alliances, and partnerships

Trending thought leadership articles published by the competitors, key executives, associations, etc.

Track trending topics, such as the Affordable Care Act around health/medical insurance coverage, employee benefit schemes, pension solutions, etc.
After adequate due diligence Contify, a leading market intelligence software provider was selected.
Contify configured a customized version of its AI-enabled market intelligence platform that includes a Newsletter manager, Alerts, etc. to meet the insurer's requirements.  This configuration comprised of:
1. Sourcing of Information
Contify analysts identified key companies and sources that provide relevant global/regional coverage
2. Customized Taxonomy:
Newsletter identifiers – to quickly help identify the relevance of an article to a specific Newsletter; such as Global, Western Europe, Employee Benefits/Pension Solutions, etc.

Segments – includes lines of insurance such as Property, Casualty, Life, Specialty, etc.

Emerging Technologies:

InsurTech/Fintech

Big Data & Analytics/Reporting

IoT

Key Topics: 

Insurance Events, Seminars

Regulatory Updates – covering acts, rules

New Products/Offerings

Financial Performance

M&A

Others, such as Obamacare, Employee Benefits, etc. 

Geographical footprint
3. Centralized platform: Contify market and competitive intelligence platform is used by the insurer's global marketing team to share relevant business insights with the global/regional leadership. The regional analysts accessed curated content on target markets from the same platform. Leveraging the platform, relevant insights in the form of articles, documents, are stored and disseminated in the form of Newsletters, automated daily Alerts, as well as periodically analyzed through dedicated dashboard widgets.
4. Customized Newsletters with added industry insights: Ease of collating the information on the platform allows the marketing and analyst teams to spend less time searching and more time to provide strategic insights while providing accurate and noise-free intelligence to the company's decision-makers.
5. Ongoing adoption: The company continues to introduce the platform across regional teams. New subscribers are added to the platform and the newsletters every month. This helps in cost reduction by freeing up analyst time.
Enables collaboration through a centralized and automated market intelligence platform: The platform helps to aggregate and disseminate the information seamlessly. As a result, the analysts saved 80% of their time spent in searching relevant insights for creating bi-monthly Newsletters, which translates to saving over 150 man-hours monthly.
Improves efficiency: The insurer started releasing four Newsletters within a Month improving the efficiency of its deliverables by 100%. The high strategic impact articles now have a very short cycle time and are shared within 12 hours of their publication.
Enhances engagement through a White-labeled platform: With customized templates, the look and feel of the newsletter is consistent with the insurer's branding- enabling faster, seamless engagement and swift decision making.
80

%

Time-saved in manual research

2

X

Faster decision making

100

%

Improved efficiency
"I love the look and feel and the integration capabilities of the platform. The Newsletters are as per our branding and are appreciated by the management team. My team need not scroll through the web anymore."   – Insurer's Marketing Analyst