For over a decade, the firm, a leading European player has invested in developing sustainable energy solutions for automobiles. With a presence in five countries and employing over 300 personnel, the company has aligned its offerings to the global transition to electric energy mobility by providing solutions for EVs.
The company provides a tailor-made network of charging stations to public and private sector institutions based on their custom requirements and delivers end to end solutions that include infrastructure, equipment, payment processing, hosting, and customer service.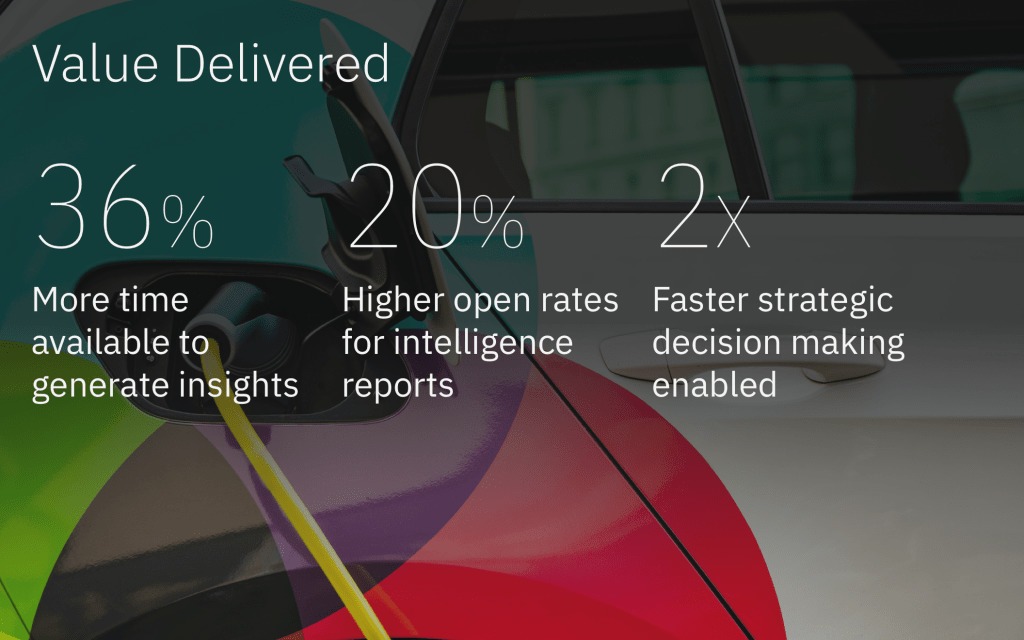 Owing to the early stages of technology developments in the electric mobility domain, the decision-making at the company was centered around keeping abreast of the latest digital disruptions to drive decisions for their product teams.
The company's dedicated market intelligence team sourced relevant updates on the firm's competitors and markets. It was done manually without any technology-driven intelligence platform. The firm's market intelligence practitioners followed a set process of identifying and tracking the leading industry sources, Google searches, and sifting through numerous industry reports. Further readings and deep dives were required to extract insights for product managers and the strategy team that included the leadership and key executives.
This manual process of gathering market intelligence to drive insights was labor-intensive and prone to errors. Therefore, the company was on a lookout for a technology-driven market and competitive intelligence tool that could help them:
Automate the monitoring and tracking of news updates on the strategic moves of their competitors to drive informed decision-making.  

Track their product segments with a focus on any new products and services within the segments of connected vehicles, autonomous driving for EVs, shared mobility, and FinTech.

Aggregate strategic updates from different websites in a precise manner so that their analysts spend less time searching and more time on analyzing the information. 

Create a centralized repository of intelligence with strategic updates on key competitors and make this intelligence easily retrievable to conduct timeline analysis and identify trends on a monthly, and quarterly basis.
Post adequate due diligence by the company, Contify — a leading market intelligence company was selected. Contify tailored a customized solution by adopting the following steps to deliver actionable insights to the firm.
 1. Identifying Drivers
The Contify team started by developing a thorough understanding of the impact drivers for the company. We understood what is an actionable signal from the perspective of management executives and structured those signals into a comprehensive taxonomy. This taxonomy included terms to represent not only external signals but also reflective of the company's internal business organization and priorities. All the updates on competitors and market intelligence were categorized based on this taxonomy.
Contify helped the company to segment the industry under a comprehensive taxonomy structure for in-depth analysis and easy retrieval. A taxonomy is proprietary to the organization. It reflects its view on the market and internal business priorities. For illustration purposes, a sample taxonomy of the company is presented here:
Infrastructure Services

Infrastructure Provider

Electricity Generator

New Player

Service Provider

Charging Solutions

Charging Abroad

Charging Home

Charging Card

Charging Functionality

Quick Charge

Inductive Charge

Mobility Services

Battery Leasing and Changing Stations

Mobility on Demand

Multimodal Mobility

Financial Services

Leasing of Electric Vehicle

Leasing of Battery
Over and above Contify's standard 200,000 sources, we identified several domain-specific sources relevant to the company by reviewing the firm's internal processes for manually sourcing information. Given the company's focus on eMobility and automotive technologies, several custom sources were added to track the adoption of digital transformation initiatives by the key competitors and market leaders.
 2. Delivering a Real-time Stream of Strategic Updates
Filtering out irrelevant information for a niche and specialized as eMobility was challenging. Contify tailored its contextual noise-filtering and machine learning algorithms to deliver automated updates by leveraging the samples shared by the firm and feedback during the initial setup process. With over a decade of experience, Contify has established best practices to configure the contextual and subjective market intelligence for each customer. For example, during the initial setup, the users leveraged Contify's Newsfeed's inbuilt functionality to share the feedback seamlessly. This feedback was taken up for further competitive analysis and discussions over the weekly calls and subsequently used to optimize Contify's machine learning algorithms. To further optimize analyst workflows, Contify configured separate Newsfeed Views on the platform for each of the firm's operating segments. Intuitive Dashboards were also set up to give the team a comprehensive snapshot and updates from each market segment.
 3. Structuring Intelligence Newsletter Reports
The Contify team designed the Intelligence Newsletter Reports in a format co-developed with the company's market intelligence team to resonate with the leadership and key executives.
For each news update, Contify added the analyst views to help the leadership focus on the implications of the updates for the company. Furthermore, we also added a 'Weekly Insights' section to help the firm get a quick snapshot of key market developments from the week past.

"This is a great tool to track all the updates relevant to us. Contify has helped us transform the way we share knowledge and intelligence across our organization through one centralized solution." – Market Research Manager
Generating Better Insights, Faster
36% of the weekly bandwidth of the team that was spent on manually sourcing information was saved using Contify's automated Market and Competitive Intelligence solution. The market intelligence team of the firm now spends the time generating more impactful insights for the company's leadership.
Enabling Swift Decision Making in Sync with Market Drivers
Because of Contify's automated market intelligence platform, the leadership teams are receiving faster delivery of strategic updates and insights.  The information-sharing cycle with the segment teams was reduced by 50% from ten to five business days. Also, this has resulted in a 20% increase in the open rate of leadership competitive intelligence newsletter reports.
36

%

More time available to generate insights

20

%

Increase in the open rate for newsletter

2

x

Faster strategic decision making enabled