With around 100 million customers across the world, the US-based insurance company, founded in the mid-1800s, is one of the world's largest financial services companies, providing insurance, annuities, employee benefits and asset management to individual and institutional customers.
The company's strategy team was already sending weekly intelligence newsletters to the senior management with information about competitors and other industry updates. But the recipients wanted to get these useful newsletters on a daily basis, not weekly.
The objective was to increase the frequency from weekly to daily intelligence newsletter reports, with the same high-quality content and insights in these newsletters. But it wasn't possible because the existing process was painstakingly time-consuming:
Time spent on manually searching for information across multiple sources
Time spent on reading and analyzing all the updates
Time spent on manually writing insights and preparing the intelligence newsletter
It wasn't possible unless the time-consuming parts of the process are automated. The team was looking for a solution that can not only automate the searching for information but also help in the extraction of insights, and also automate the process of creating the intelligence newsletter with minimal manual efforts.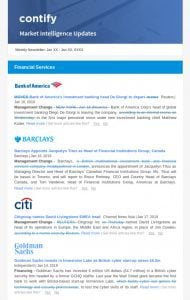 Niche, Unique Topics to Spark Curiosity
To keep users engaged, the team decided on including content related to niche and unique topics. Contify was configured to source content on new-ish topics such as regulatory technology (RegTech), P2P and co-lending, blockchain, cryptocurrency, anti-money laundering compliance among others.
Exhaustive Coverage, Selective Sourcing
New sources of content were identified for the specialised topics mentioned above and some of them were in non-English languages. We configured our crawlers in a manner such that only relevant content was integrated from these new sources. The content was tagged with the new topics and mapped to individual users based on their profile and usage behaviour.
2

x

Average session length enhanced.

100

+

New updates each hour delivered.