DemandFarm is a Key Account Management software for enterprise customers. Businesses have thousands of customers but the bulk of the revenue comes from a select group of large customers – these are the Key Accounts. DemandFarm helps its customers to focus on and grow such key accounts. A core component of managing relationship with key accounts is timely engagement with them. To do this more efficiently, Account Managers were asking DemandFarm for quick access to news and other relevant updates on their customers. These news updates, we call them sales triggers, will help the Account Managers to engage with their accounts in a timely and personalized manner. DemandFarm approached Contify for a solution that could help them easily integrate company news into their software.
We gave DemandFarm access to our News Feed APIs. This included company news, social media updates, job postings, and regulatory filings. The solution was based on three key components:
Exhaustive sourcing: For sales professionals, it is critical that they do not miss any important company news. Our News Feed is powered by over 200,000 sources including news, regulatory portals, job boards, and social media (Facebook, LinkedIn, Twitter, YouTube)
Customized processing: DemandFarm users didn't need all the marketing material being shared by companies on their websites and social media channels. We configured our text mining algorithms to source case studies and blog posts while weeding out the rest
Delivery through APIs: Using our News Feed APIs, DemandFarm was able to quickly test out the quality of our content to accelerate the development of the news data feature. They got access to our developer portal where they could monitor the usage
What Made our Solution Stand Out
Developing sales triggers – Sales professionals depend on certain signals to single out engagement opportunities with prospects and clients. We worked closely with the DemandFarm team to identity these signals. These included Partnerships & Alliances, New offerings, M&A activities, funding rounds, customer acquisitions, and 10 more. With our 8+ years of experience in writing rules and optimizing text mining algorithms, we were able to create sale triggers with 95% tagging accuracy. Here's an example for PwC – one of the key accounts being managed inside DemandFarm. Our news feed delivered only actionable sales triggers and filtered out irrelevant marketing content like webinars.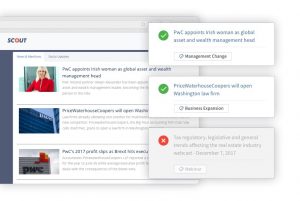 "Contify's news feed were easy to use and helped us to quickly launch a differentiating feature in the form of DemandFarm Scout. Just the number of additional inquiries based on this feature are sufficient to justify the investment."

Milind Katti

CEO, DemandFarm