Founded in 2004,this Arizona based risk management solution provider helps global organizations manage and monitor the security risks associated with third-party vendors. The firm offers a SaaS-based platform that enables its customers to automate critical tasks required to monitor companies across the vendor life cycle. The firm also provides professional services to help optimize clients' vendor risk management program.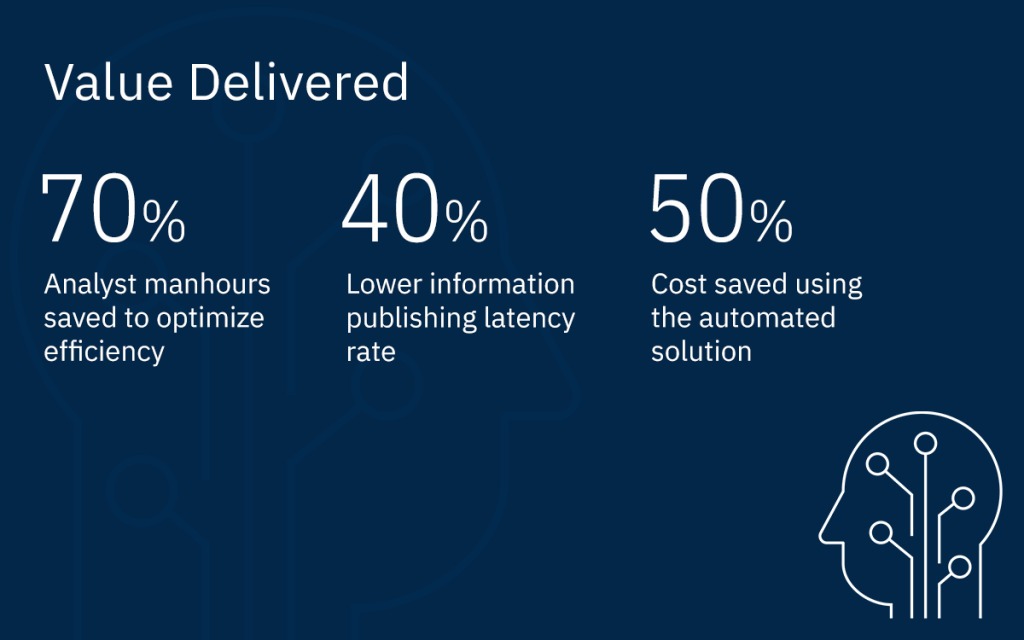 The firm aimed to track ~12000 global companies (procurement vendors for their end-users) across industries. ~60% of these global companies are small and medium enterprises (SME) and ~40% are large enterprises. 
Before using Contify, the firm tracked these global companies and identified risk-based triggers (bankruptcy, negative news, litigation, etc.) leveraging automated keyword-based tracking tools and google alerts. The firm's analysts used to collate data from multiple sources, manually review ~2000 updates daily and tag the updates with the relevant risk trigger. The information was then added to the firm's SaaS-based platform. 
The key challenge was to identify and add relevant and timely information into the firm's SaaS-based platform. Moreover, the information in non-English languages is to be first translated before adding it into the firm's SaaS-based platform. The team of analysts collectively spent ~7 analysts' man-days per week to collect and upload this information on the platform.
To mitigate these challenges, the firm started looking for a technology-based solution that could:
Add relevant and a steady stream of noise-free and real-time updates to their customer-facing SaaS platform

Leverage automation to optimize their an

alysts time doing manual research, and make more time available to extract the strategic insights for their end-customers 

Multiple language support to track small vendors across geographies

Automatically mark insights with relevant tags using customizable end-points, avoiding the need to manually select the tags in the firm's SaaS-based platform

Allow seamless integration with the firm's SaaS-based platform without any change to the existing platform

Automate tracking of the changes on companies' websites
The firm conducted adequate due diligence across different Newsfeed APIs available. Contify News feed API was selected to meet their requirements.
Sourcing of information:
The Contify team helped to identify the relevant company websites for SMEs. The press announcement section of these websites is added to the existing pool of 500,000 sources already available on the Contify's market intelligence platform. We also added custom regulatory data sources to track the regulatory updates. Other sources include: 
Press Release sections to track the official announcements

Specific sections of the government and regulatory websites providing financials and other risk-related related information

News Updates / Press Announcements sections to track strategic updates
Custom Topics:
The Contify team created multiple custom topics across events for categorizing and tagging the news updates in alignment with the firm's SaaS-based platform structure. Some of these custom topics are listed below:
Operations / Structural

Restructuring
Cost-cutting
Divestitures
Management restructuring
Commercial / Financial

Acquisition failures
Frauds and other crime
Chapter 12 filings
Insider Issues
Legal / Regulatory

Lawsuits/Settlements
Probes and fines
Brand / Image

Reputation Impact

Product recalls

Cybersecurity Issues, etc.
Delivery through APIs: 
Each article/event was tagged against the specific event category, company/vendor, source of information, content-language, geography, etc.

Leveraging Contify's

Newsfeed APIs

, the firm's engineering team seamlessly mapped the end-points to fetch near real-time updates into the firm's SaaS-based platform

Post-API integration, the firm's SaaS-based platform started fetching vendor updates without any manual intervention
Generated Actionable Insights, faster
The accurately tagged intelligence enabled the firm to provide monitoring of security risks associated with vendors from their SaaS-based platform. The latency of the risk-related information delivered declined by 40%. Earlier the latency in the information published time and original time was ~24 hours, which was reduced to 15 hours.
Reduced CAPEX and OPEX cost
Contify News APIs enabled the firm to make significant cost savings that they might have incurred if they would have built the technology infrastructure in-house. The firm invested in enabling interactive and collaborative features on its SaaS-based platform to make it more user-friendly.
Empowered analysts to drive impactful research
The firm's team of analysts saved up to 200 hours a week (~70% savings). The analysts now spend less time searching and more time providing strategic insights for the end clients.
70

%

Analyst man-hours saved to optimize efficiency

40

%

Lower information publishing latency rate

50

%

Cost saved using the automated solution
"Contify News APIs is an integral element of our SaaS-based platform allowing us to offer relevant and timely news on vendors – enabling our clients to respond swiftly and take immediate action,"
                                                                   – Sr Product Manager, Risk management solution provider