Founded in the '80s, this Texas-based firm produces and outfits cutting-edge semiconductor arrangements into Testing and Measurement equipment. The company provides numerous semiconductor manufacturing and testing solutions. It employs 2,000+ employees globally and has an annual revenue of ~USD 2 billion as of 2019.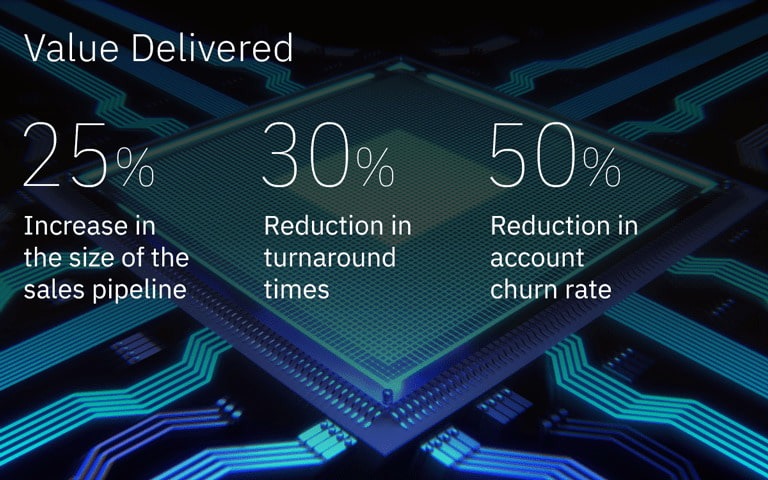 The company targeted both large and small accounts, across diverse industries ranging from the telecom equipment makers, computer motherboard producers to aircraft communication equipment manufacturers. The firm was interested in exploring any growth opportunity with its key accounts and share related signals to the account managers. The firm relied on the manual research efforts of multiple teams comprising several research analysts who gathered data from information databases such as Google Alerts to capture news on targeted companies; and eventually, use it to drive sales. However, managing this behemoth activity across the universe of prospective customers had to be abandoned, as the manual process was labor-intensive and prone to human errors and inefficiencies. 
Regularly following up with the key accounts and prospects is essential for the company to drive sales. Relevant insights related to the accounts help in creating more personal interactions with every key account unraveling business opportunities. Therefore, the client was looking for a technology-driven comprehensive account intelligence solution that:
Tracks the latest updates automatically spanning

multiple geographies and non-English sources

for the list of 120 key accounts, and the company's key markets. 

Aggregates strategic updates from the web in a precise, relevant, and noise-free manner to save on the time and effort analysts were spending on manual research. 

Creates a centralized repository to store insights from key accounts and make them easily retrievable to conduct analysis and deep dives. 

Facilitates daily intelligence alert with insights from the semiconductor market and related product launches, R&D announcements/investments, strategy updates to help the management team make informed decisions

Derives bi-monthly trends and share competitive analysis in a report to be shared with the management team
Besides this, the company also wanted to track any latest updates on the semiconductor application trends in the end-consumer markets.
After adequate due diligence, Contify- a leading market and competitive intelligence solution provider was selected. Contify team developed a thorough understanding of the company's requirements and deployed a customized account intelligence solution.
Setting up and configuring the Account Intelligence platform:
Contify customized the enterprise version of its AI-enabled market intelligence platform and configured a dedicated account intelligence solution that provides each account manager with a consistent Newsfeed comprising account updates enabling them to track the firm's key customers, prospects, and the related markets. 
Sourcing of information:
The Contify team discussed the relevant sources with the respective account managers. These spanned: 
Company websites to track leadership comments, opinions, thought leadership, and press announcements.

Social media handles to monitor event participation and hiring exercises

News websites to track strategic information such as legal and operational challenges, business expansion, partnerships, M&As, and management changes
Contify also used its SmartTranslate features to source information from local and niche publications in multiple languages.
Customized signals for account intelligence:
A list of relevant signals was identified that would enable the account managers to keep a tab and start intelligent and engaging conversations with their key accounts. These intelligence signals were configured for categorizing and tagging the insights as per the company's internal taxonomy across:
Key Accounts:

80+ key customers 

Market Updates:

Key end-markets in which the customers operate; such as the Aerospace, Telecom Equipment, Computer Chipset manufacturers, etc.

Sample Taxonomy

(including Products and Topics):

Fingerprint and MEMS Sensors,

Compound Semiconductor,

ODM/EMS,

Dynamic random-access memory (DRAM),

Memory IC,

Ethernet,

Motherboard,

RF Test,

Microprocessors,

Avionics Test, and o

thers.
Meeting client expectations on key accounts: 
Financial Performance & Roadmap- Highlighted account performance on a bi-monthly basis supported by updates on Board Meeting, Industry Analyst takes Financial Performance Analysis by business dailies, etc.

Strategic Initiatives- Provided periodic updates on strategic topics such as new offerings, business expansion, partnerships/alliances, and management changes. 

Executive Alerts – Included rigorous coverage on executives in news, social media; including the management changes and hiring trends
Reports & Alerts:
Daily email alerts were sent out to account owners covering key events like new offerings, funding events, M&As, partnerships, and business expansion through Contify's automated email alert system. The Contify team also prepared a bi-monthly trends report including additional insights sourced through the existing platform and triangulated it with exhaustive secondary research. This quarterly analysis was customized as per the client's internal structure shared directly with the executive management team through the platform.
Facilitating a seamless user experience
Since the experts from various groups and business lines were utilizing a unified usage of the Contify's Account Intelligence Solution, we ensured that each account manager and their group of analysts have a frictionless experience. To accomplish this, Contify configured separate Newsfeed Views on the platform to house the updates that pertain to key accounts. Dashboards were created to give each account manager a comprehensive snapshot of the accounts they handle.
"The Contify's platform is extremely user-friendly, and it helps in saving the time and increase the efficiency of our account managers. Overall, we found a good mix of articles on the Contify platform, which were not available on the other databases. Contify's daily intelligence alerts help us finding opportunities to engage with prospects and target accounts regularly." – Vice President of Global Sales and Customer Operations
Reducing customer churn and maintaining healthy accounts relationships
The account managers are now able to gather insights in advance with any of the negative instances/updates for their key accounts. Using the Contify's account intelligence solution, they can proactively manage the key accounts and reduced the account churn rate from 20% to 10%. 
Improved Sales Pipeline 
Contify's sales intelligence platform helped account managers to identify upselling and cross-selling opportunities leading to a 25% increase in the size of their sales pipeline.
Swift Response Times
With a faster delivery of strategic updates account managers were able to approach and engage their clients confidently with a ~30% reduction in the reaction cycle from seven to five business days.
Deployed Centralized Platform for Account Intelligence 
With a centralized repository of strategic updates related to their competitors and key accounts in place, coupled with automated fetching and precise tagging, the firm saved its analysts' time and effort otherwise spent on manual sourcing and curation of insights. This translated into more bandwidth available to conduct deeper research and extract insights for creating monthly and quarterly reports.
20

%

Increase in the size of the sales pipeline

30

%

Reduction in turnaround times

50

%

Reduction in account churn rate