The firm is a US-based B2B professional services firm that offers management consulting and advisory services across diverse industries such as automotive, finance, energy, consumer goods, retail, and healthcare. 
It operates as an international consulting platform that provides guidance and services to businesses and entrepreneurs globally. It has more than 7,000 employees with a presence in 30 countries. The firm has been operating for the past 40 years.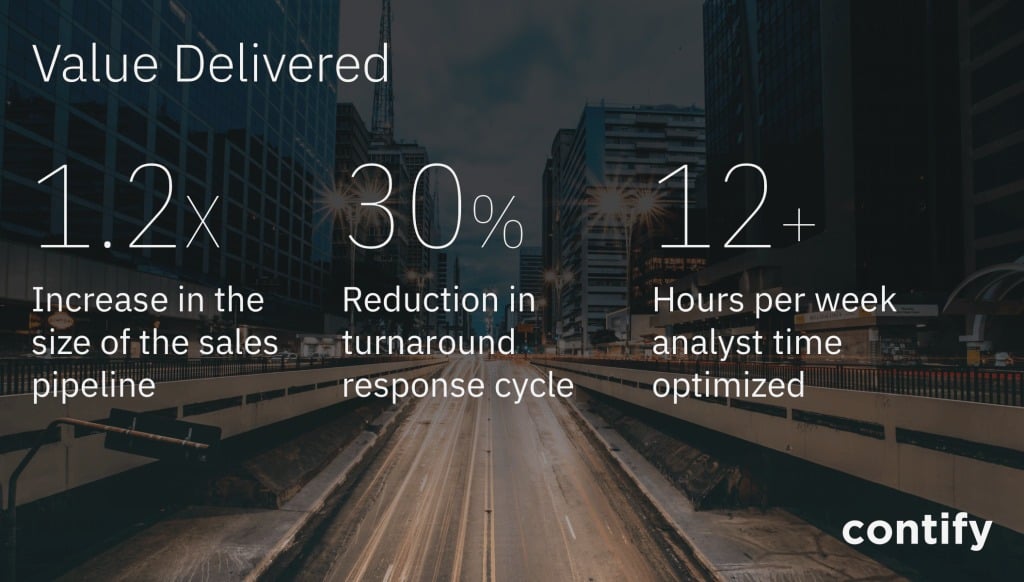 Each key account at the firm is handled by the designated partner for that industry. Tracking these accounts is crucial for the firm's overall business strategy, as they can present new opportunities to bring in additional business for the firm whilst improving ongoing relationships with clients by offering their services at the right time and place.
Before approaching Contify, the firm relied on the manual efforts of several teams of research analysts who gathered data from numerous information databases. The firm's analysts, managers, and practitioners follow a set process – identifying the right sources, tracking the sources manually, using google search, and reading through PDF reports. Further readings and deep dives were used to extract insights for account managers and the business development team that mostly consists of senior managers. 
This manual process was labour-intensive and prone to errors and inefficiencies. Therefore, the firm was on a lookout for a technology-driven account intelligence solution for sales that:
Monitors and tracks news updates automatically and keep tabs on the strategic moves of their key accounts that could present an opportunity to offer their professional services

Aggregates strategic updates from the web in a precise, relevant, and noise-free manner to save on the time and effort their analysts would've spent on manual research. 

Creates a centralized repository to store updates from key accounts and make them easily retrievable to conduct analysis and deep-dives on a monthly/quarterly basis.

Expedites scalability by deploying the solution across multiple account management and business development teams that serve various industries worldwide.

Facilitates a multitude of ad-hoc requests from management and stakeholders such as tracking the impact of COVID-19, evaluating new geographies, focused offerings, and providing archival data for analysis.
After adequate due diligence, Contify- a leading competitive intelligence software was selected. We worked closely with the firm's account managers and partners across industries to develop a deep understanding of their use-case, challenges, and expectations. We understood what's an actionable signal from the firm's perspective. We configured the platform to collect those signals for their key accounts, which could trigger an opportunity to pitch professional services.
Based on these interactions, we realized that the key objective of the firm's business development team wasn't just limited to looking for new opportunities, but also reviewing the health of these accounts. Any strategic update from the accounts, whether positive or negative, impacted decision-making and the subsequent course of action by their respective account managers.
After developing a thorough understanding of the use case, Contify shared sample structured datasets s that resonated well with the different teams. It was then used to define the blueprint of a bespoke account intelligence solution for sales.
Setting up and Configuring the Account Intelligence Platform
Contify customized enterprise version of its AI-enabled market intelligence platform to deploy a bespoke implementation that provides each account manager and their team of analysts' actionable insights to engage with their key accounts. 
This included categorizing and tagging the news updates on the firm's accounts in taxonomy reflective of the firm's comprehensive internal nomenclature. Working closely with the firm, Contify developed a deep understanding of the monitoring and intelligence requirements of different teams such as the expansion of the geographical footprint, employee safety lawsuits, statutory liabilities bankruptcy, CXO, and management movements. These triggers were organized under signals such as:
Equity investments 

Office relocation

Geographic expansion

Operations expansion

Key management movements

Mergers and acquisitions

Spin-off and divestments

New investments

Financial results

Cost-cutting
Additional sources, as suggested by each team or Contify, were also added regularly to the platform to ensure comprehensive monitoring of the key accounts. The sourced data was made available to facilitate quarterly data analysis.
Delivering a Steady Stream of Noise-free Updates
Filtering out junk and irrelevant information for web monitoring and tracking exercise at a large scale was a key challenge. Contify's market and competitive intelligence platform tailored its contextual noise-filtering and machine learning algorithms to deliver each account manager a clean feed of strategic signals.
The firm provided regular feedback on articles directly through the Contify market intelligence platform's feedback feature. This feedback was taken up for further competitive analysis and discussions over the weekly calls and subsequently used to optimize Contify's machine learning algorithms
Facilitating a Seamless User Experience
Since the analysts from multiple teams and business lines were using a centralized implementation of Contify's account intelligence solution, we ensured that each account manager and their team of analysts have a frictionless experience.
To achieve this, Contify configured separate Newsfeed Views on the platform to house the updates that pertain to different industry verticals. 
Unique Dashboards were created to give each account manager a comprehensive snapshot of the accounts they handle and updates from their industry sectors.
"The Contify's platform is extremely user-friendly, and it helps in saving time and increase the efficiency of our account managers. We found certain news updates on the Contify platform, which were not available on the other databases. The commitment of the Contify's analysts and the in-depth discussions were the indispensable components of our successful implementation, and we are now rolling out Contify for other teams as well." – Partner, B2B professional services firm
Improved Sales Pipeline
The firm was able to identify upselling and cross-selling opportunities to close more deals and witnessed a 25% increase in the size of their sales pipeline.
Swift Response Times
With a faster delivery of strategic updates account managers were able to approach and engage their clients confidently with a ~30% reduction in the response cycle from seven to five business days.
Deployed Centralized Platform for Account Intelligence 
With a centralized repository of strategic updates related to their key accounts in place, coupled with automated fetching and precise tagging, the firm saved its analysts' time and effort otherwise spent on manual sourcing and curation. This translated into more bandwidth available to conduct deeper research and extract insights for creating monthly and quarterly reports.

1.2

X

Increase in the size of the sales pipeline

30

%

Reduction in turnaround times

12

+

Hours per week analyst time optimized