A management and technology consulting firm with 40+ offices across EMEA, North America, and Asia. It has 4000+ employees and generates around €700 Million in annual revenue.
The firm's market intelligence team has a number of clients looking to track the market and competitive landscape in China and France. In order to provide them with regular quality intel to drive their investment and expansion strategies, the team had the following requirements.
Getting market intelligence on recent investments into China from European firms, including detailed analysis and trends.

Keeping a close watch on competitors that are expanding their presence in China, i.e. building a new plant, setting up a new office, hiring more workforce, etc. 

Understanding the challenges European companies face in China, including any news or market signals that highlight these challenges.

Tracking announced mergers and acquisitions (M&As) in France including information about the deal participants, deal size and the source of the announcement.
The team tried collecting the data required from multiple sources such as industry and news databases manually. However, this process proved to be impractical due to the large volume of information and inability to keep track of all the sources.
A lot of time was spent collecting and organizing the data, and then creating deliverables to send to the clients. Sometimes, weak yet significant market signals were missed in the final output. 
In order to streamline this process, optimization was required on 3 fronts: 
Collection of intelligence from multiple relevant sources in an automated manner

Organization of intelligence in a centralized repository for easy access and management

Creation and distribution of deliverables to be sent to the clients 
According to the team, what they were looking for was a one-stop shop for gathering information about competitors and markets. 
To achieve this objective, the firm decided to deploy a sophisticated market and competitive intelligence platform custom-built for its dual use case. After a detailed evaluation process, the firm decided to go with Contify.
Custom Taxonomy
In order to contextualize and model the platform for the firm's specific requirements, a customized taxonomy was configured to serve as the foundation of the platform. The taxonomy included companies investing in China which they wished to track, business and macro trends in the region, companies expanding their presence in their region, strategic topics of interest, and most importantly, business triggers that signal potential investment opportunities in the region.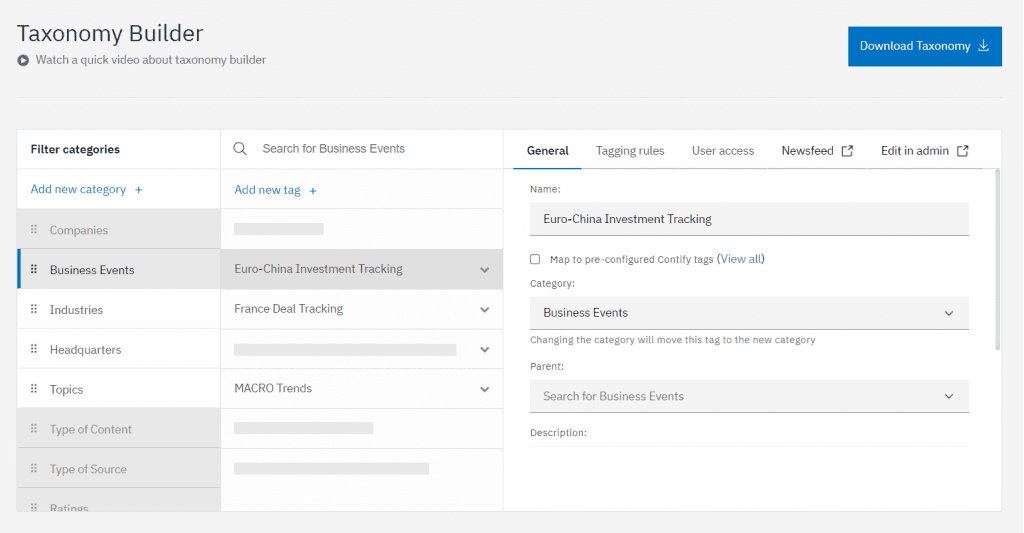 Custom Sources
In addition to the existing 500,000+ sources in the Contify platform, custom sources were added to ensure that no critical information was missed, including curated East-Asian news websites, industry associations and publications, and deep web pages of government and regulatory websites like EUCBA and USIBC. Custom rejection rules were also developed to automatically remove irrelevant updates from these sources.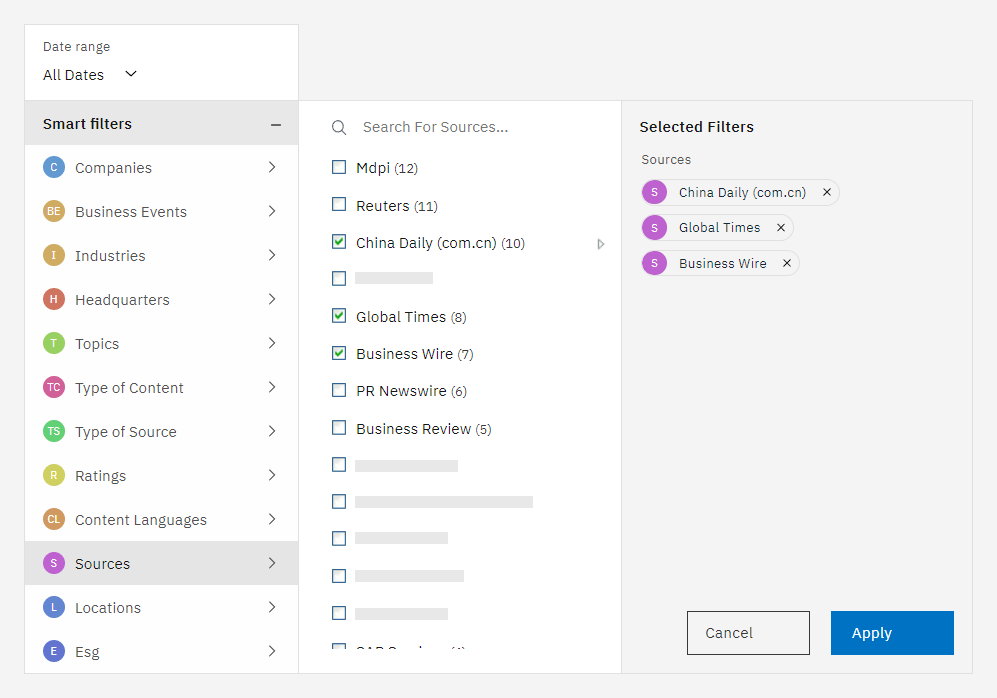 Contify's Smart Translate feature helped to track regional updates and government mandates in the local language and translate it into English.
Curated Newsfeed
Based on the customized taxonomy, a curated newsfeed was set up that delivered relevant updates and insights according to the requirements, specifically, developments in the Chinese investment landscape, especially regarding M&As, Partnerships, Market Entry, Capital Investments, and New Offices, Stores, Factories, Plants, or R&D Centres.
Utilizing one of the most effective language model for this task, BERT, the platform provided an automated, NLP-based summarization of each update, including key facts and quotes to save time and effort in reading through the whole update.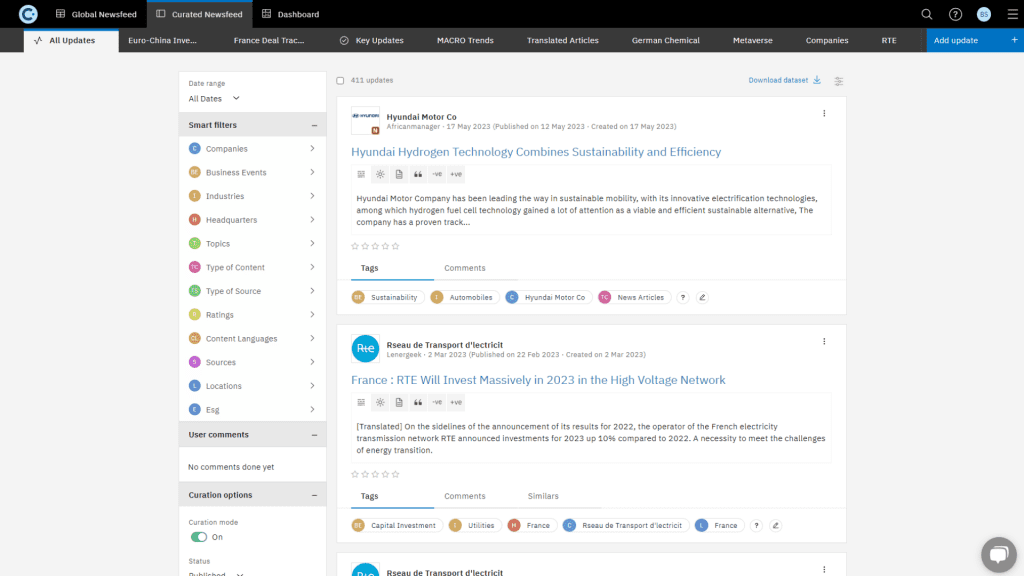 Dashboards
Comprehensive dashboards consisting of multiple charts and widgets were built to offer a centralized and granular view of the investment landscape in China and France, for example:
Investments by Events:

A snapshot of the events from an investment perspective, such as market entry, partnerships, new factory/plant/office/store, capital investment, expansion, etc.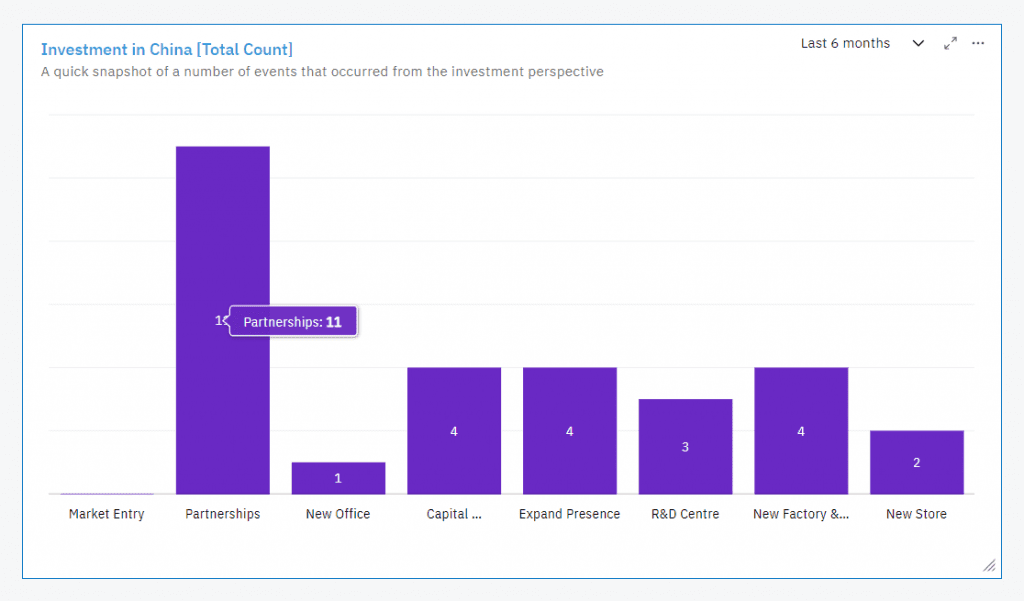 Investments by Industry:

Investments made by companies from specific industries i.e. IT, Hospitality, Chemicals, Consumer Goods, etc.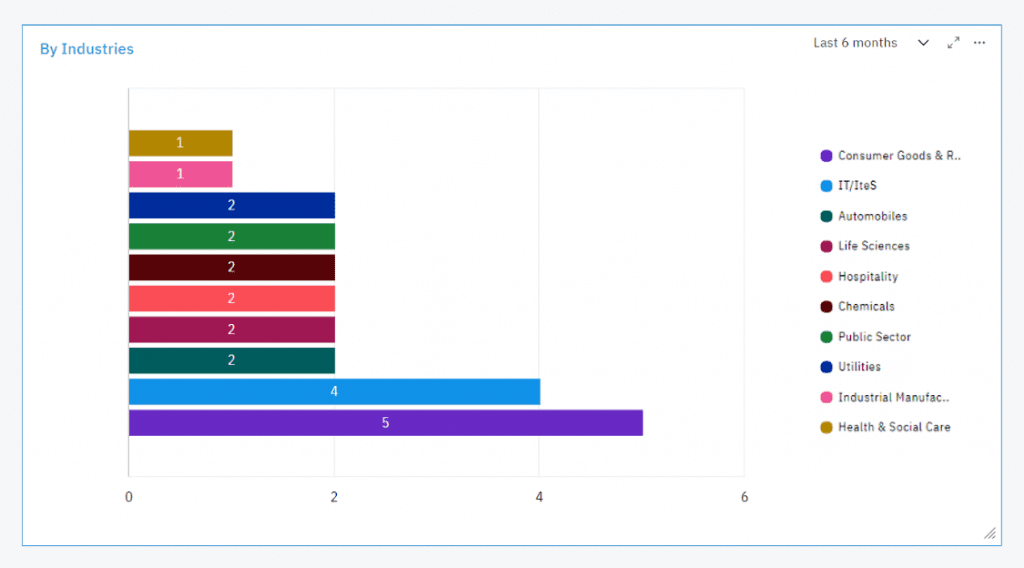 Investments by Country:

Investments made by companies from specific European countries, i.e. UK, Sweden, Germany, France, etc., to China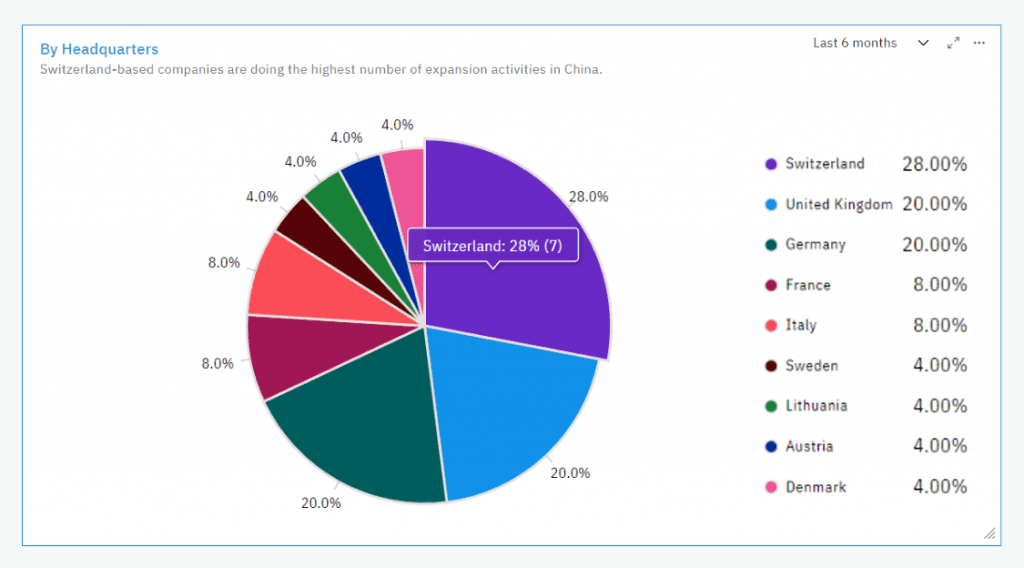 Recent updates from custom sources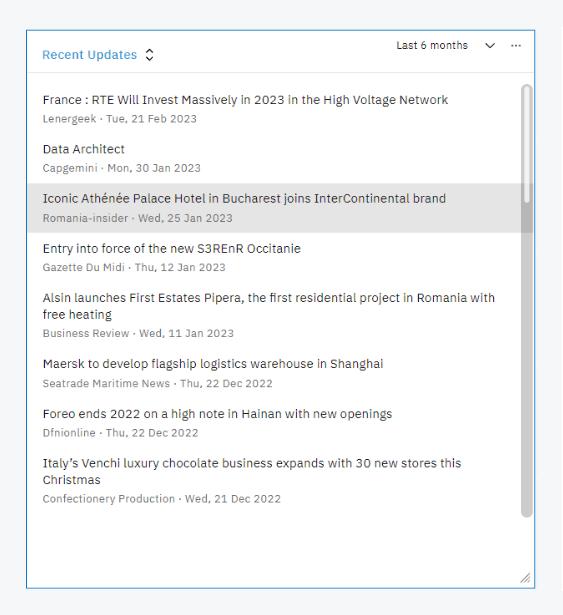 Industry-based updates

: Dedicated newsfeed widgets that show updates on companies from specific industries

Macro trends:

Macro trends from custom sources on the Chinese investment landscape, such as geopolitical updates, regulations, local partnership mandates to enter new geography, etc.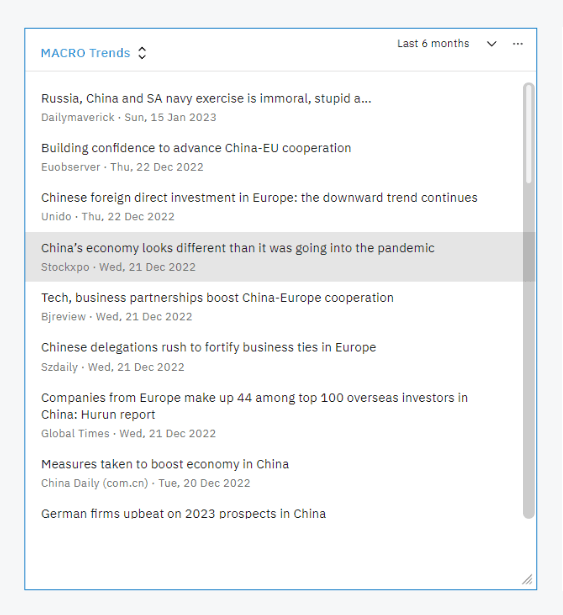 France M&A tracking dashboard:

Updates on announced and completed M&A deals in France, including details such as date, deal participants, deal value, industry and sources, along with a detailed description.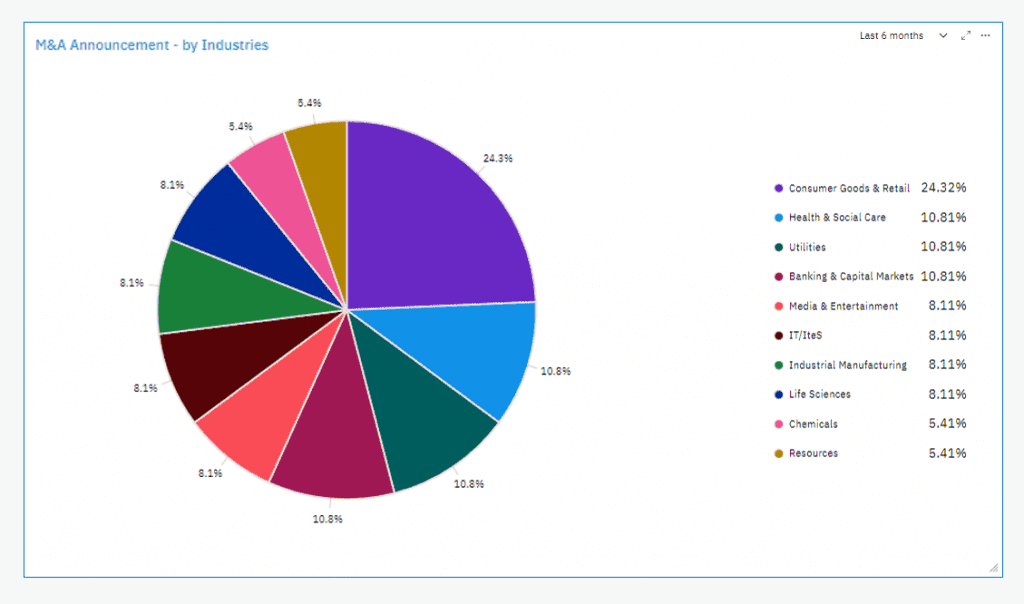 Clients easily track inter-regional deals and associated parameters
Contify's platform proved invaluable to the customer, as they were able to provide a data-driven analysis to enable their clients to effectively track inter-regional deals and associated parameters. The ability to monitor macro parameters such as regulatory updates and geopolitical developments that directly impacted inter-geographical deals, provided market insights into the key factors driving or restraining such deals, empowering the customer's clients to make informed decisions.
The customer also leveraged Contify's capabilities to monitor key indicators that played a significant role in interregional deals. These indicators included updates on investments, mergers and acquisitions, joint ventures, partnerships, and competitor hiring trends. This comprehensive view allowed their clients to identify emerging trends, spot potential collaboration opportunities, and assess market dynamics in various regions.
Furthermore, Contify's solution enabled the customer to track the establishment of new factories and R&D centers, which provided insights into their clients' expansion strategies and investment priorities. By staying ahead of these developments, the customer's clients could anticipate market shifts, evaluate competitive landscapes, and align their own strategies accordingly.
Reduced time in data collection leading to a speedier consulting process
Contify's platform transformed the customer's consulting process by reducing time in data collection and accelerating insights delivery to their clients. It helped automate the data collection process, eliminating manual efforts and saving valuable time, ensuring comprehensive coverage and minimized the risk of missing crucial insights.
Contify's custom taxonomy and newsfeed views were instrumental in enhancing the customer's data analysis capabilities. The platform allowed them to create a tailored taxonomy specific to their industry and consulting focus.The customized views further facilitated a granular analysis, enabling them to focus on specific parameters, trends, or regions of interest.
The dashboards' user-friendly interface and intuitive design made it effortless to access and present the collected data, empowering the customer to quickly share insights with clients.
Identification of potential restraining factors for market entry in China
Contify's platform enabled the monitoring of macro parameters, including regulatory changes and geopolitical updates in China. These timely insights enabled the consulting firm to identify changes in policies, legal frameworks, or market conditions that could potentially derail any market entry initiatives.
Contify's solution also enabled the consulting firm to delve deeper into the key factors driving or restraining inter-regional deals in China, helping them gain insights into the market dynamics and influential factors affecting business expansion. This knowledge empowered the consulting firm to advise their clients on potential challenges and devise strategies to mitigate risks effectively.
Optimization of due diligence by tracking announced M&A deals, deal participants, value and expected closure dates
Contify's platform provided the consulting firm with a comprehensive dashboard specifically designed to track announced deals in France. This dashboard included relevant details such as date of announcement, deal participants, deal value, industry insights, and sources of information. By utilizing this feature, the firm could stay informed about upcoming deals and gain valuable insights to makely timely adjustments to their strategies.
Contify's platform also ensured that the consulting firm received real-time updates and alerts regarding the announced deals. In addition, by consolidating deal-related information in one centralized platform, the firm could access and analyze data more effectively. This streamlined approach minimized the risk of missing critical updates, ensured comprehensive coverage, and improved the accuracy of their due diligence reports.
"Contify's platform has completely transformed our market monitoring process, automating the process of gathering and analyzing critical information for our clients. With custom taxonomies, curated newsfeeds, intelligence newsletters, and comprehensive dashboards, we can efficiently track inter-regional deals, monitor market dynamics, and identify potential restraining factors for market entry in China. The platform's automation capabilities have significantly reduced our data collection time, allowing us to deliver insights faster and optimize our due diligence process. Contify has become an invaluable tool for our consulting firm, enabling us to make well-informed strategic decisions and provide actionable insights to our clients."